Comparing Events Made Easy vs Event Espresso: Should You Go Free or Premium for Your Events Website?
If you're looking to offer online event registration and ticketing on your WordPress website, you'll need a specially-designed tool. WordPress doesn't offer any features to help you display events and sell tickets, but you can do those things (and more) with the right WordPress events plugin.

When it comes to WordPress events plugins, there is a range of options available. For example, there are simple free tools like Events Made Easy or Event Espresso Decaf, which make getting started quick but can be limited in terms of functionality. There are also premium solutions such as Event Espresso (premium version), which won't come for free but will offer more features.

In this post, we're going to discuss the pros and cons of going with a free or premium WordPress events plugin. We'll also introduce two of the most popular options, and help you choose the right one for your site. Let's jump in!
Some Options When Choosing a WordPress Events Plugin

WordPress makes it easy to create a website and get it up and running fast. However, the core software is kept lean on purpose, so it can be adapted to a wide range of uses. This means that if you want to create a website that offers event registrations and online ticketing, you'll need the additional features that an event plugin can provide.

When it comes to choosing a plugin, you have several options. There are free plugins, many of which can be found in the WordPress Plugin Directory. Alternately, you can purchase a premium plugin, which can cost anywhere from a couple bucks to a few hundred dollars. The prices vary based on the level of support you get and the features in the plugin.

The primary advantage of picking a free events plugin is obvious – it's a no-price option. You aren't risking money, and you won't need to worry about finding room in your budget. However, free plugins often provide fairly limited functionality. Plus, while there are many well-supported free plugins out there, there's a greater chance they'll be abandoned by their developers. In addition, free plugins may end up costing you in adverse ways, such as taking more of your time to set up, or the free plugins can cost more because they are missing features that result in more work or you may lose money with fewer registrations or ticket sales.

Premium plugins do come with a cost attached, but they also offer a number of benefits. For instance, they will typically:
Provide you with a wider range of features and functionality

Come with dedicated customer support

Access to helpful documentation such as an online knowledge base

And, they may be updated more frequently
The second and third points are fairly self-explanatory. To further illustrate the first, however, let's take a look at two popular examples of WordPress event plugins.
The good news is that event registration and ticketing functionality is popular enough among WordPress users that you have lots of options for adding it to your site. Whether you're just looking to promote the occasional event or sell tickets and registrations on a regular basis, it won't be hard to find the right tool.

Events Made Easy is an example of a free events plugin for WordPress: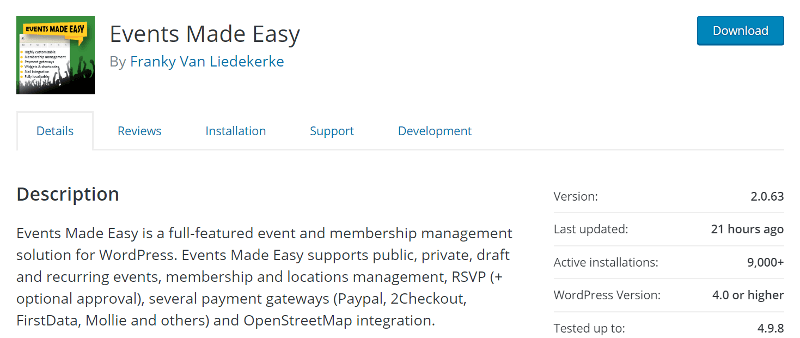 This tool is free to install and use on your site, and it offers a number of helpful features. For example, with Events Made Easy you can:
Create both one-time and recurring events, and display them on your site.

Add events lists and calendars to your site, using sidebar widgets and shortcodes.

Enable users to pay for registrations using various payment gateways.

Send out automatic email reminders to registered users.

Integrate maps to show each event's location.
This covers many bases when it comes to events management. You can set up and publicize events, let visitors register for them, accept payments, and track registrations.

At the same time, there are certain features this plugin can't provide. As a contrast, let's check out Event Espresso (premium version):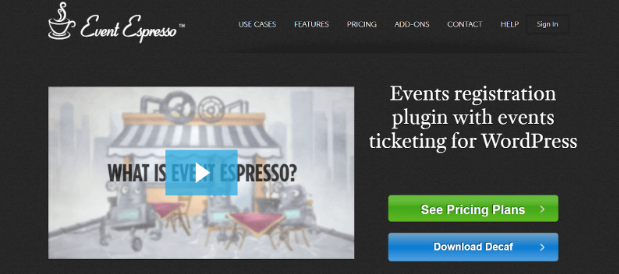 This premium events plugin offers all of the features covered above. In addition, it also lets you:
Add multiple dates, time, and pricing options to each event.

Enable visitors to purchase multiple tickets or registrations in bulk.

Manage payments from your site, using a single-page checkout system.

Collect customer data with event registration forms.

Use mobile apps

to scan tickets and track attendance.

This is just a sample of the options provided by this plugin. What Event Espresso aims to do is provide a fully-featured solution for creating and managing events through your WordPress site.
You'll also get access to a year of updates and support when you purchase a license. There are dedicated support forums and detailed documentation articles, or you can get in touch with the customer support directly for help. Plus, unlike many other premium events plugins, you only have to pay a license fee – there are no extra charges attached to tickets sales.
How to Select the Right Events Plugin for Your Website
Now that we've looked at both free and premium events plugins, let's discuss how to choose the best option for your needs. While there is no one right choice for every site, there are some clear use cases for each plugin.

If you're only planning to promote events occasionally, a free plugin like Events Made Easy or Event Espresso Decaf (the free version) may be enough. These free event plugins may give you access to enough basic features to get the job done. It's also a handy solution if you simply can't afford to spend any money purchasing a premium events plugin.

However, if your budget does have a bit of room or if you want to increase sales or save time, a premium choice like Event Espresso has a lot more to offer. It can help you manage every aspect of your events, sell tickets and registrations easily, and more. It's a no-brainer if you're running an events-focused website where you promote shows, classes, conferences, workshops, or tournaments on a regular basis (just to name a few examples).

If you're still not sure, there's actually a free version of Event Espresso that you can try out. This offers the best of both worlds – it's free and requires no commitment, but includes many of the plugin's core features. Using this plugin gives you the option to easily upgrade to a premium plan, should you decide you need expanded functionality.
Conclusion
Choosing an events plugin for your WordPress website is an important decision. It will shape the way you create and manage events, and determine what options you have available.

A free plugin like Event Espresso Decaf or Events Made Easy can come in handy if you just want to promote a single event, or if you want a simple, free solution. However, if you're looking to run a full-fledged events website, make money on your events or save time, you'll likely find this kind of option limiting. In that situation, opting for a premium plugin such as Event Espresso will be well worth the investment over the long-term.

Do you have any questions about Event Espresso and what it can do? Ask away in the comments section below!