Event Espresso can save you time and help you get paid faster by handling your workshop registrations
Create workshops that take place once a day or across multiple dates with ease
Need the flexibility of hosting workshops and other type of events? With Event Espresso you can manage workshops, classes, seminars, conferences, and more!
Whether your workshops are free or paid or even have multiple pricing options, Event Espresso can help
A preview of a workshop (gardening) created with Event Espresso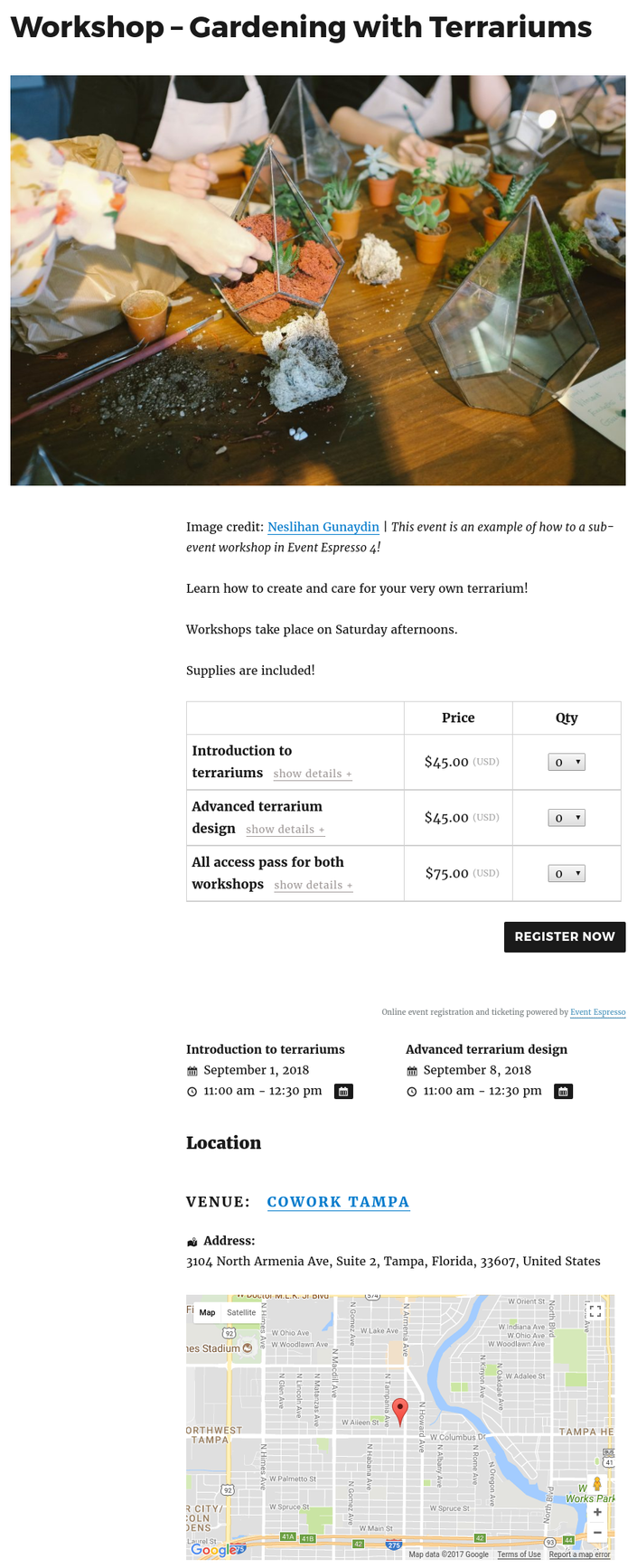 See a workshop on a demo site | Plan your workshops with Event Espresso →
Here are just a few organizations that trust Event Espresso for their workshops
Floral Creativity (Stroud, United Kingdom)
Celtic Arts Foundation (Washington, United States)
Wavelength Psychotherapy (Nova Scotia, Canada)
WithinReach (Washington, United States)
Studio Gaia (Illinois, United States)
TasCOSS (Tasmania, Australia)
Saskatchewan Archaeological Society (Saskatchewan, Canada)
My Style Camp (New York, United States)
Generous Earth Pottery (Wisconsin, United States)
Kadampa Meditation Centre (Birmingham, United Kingdom)
Good Shepherd Episcopal School (Virginia, United States)
Kiki's Quilt Shack (California, United States)
30 Day Money-back Guarantee
Your purchase is 100% risk free! Try Event Espresso for a full 30 days. Our team will be there to help you along the way with any questions.
Ask a question about Event Espresso | Get started now with Event Espresso →