Event Espresso can save you time and help you get paid faster by handling your workshop registrations in Virginia
Set up dates for your workshops
Create workshops that take place once a day or across multiple dates with ease
Versatile for different types of events
Need the flexibility of hosting workshops and other type of events? With Event Espresso you can manage workshops, classes, seminars, conferences, and more!
Create different registrations options for your workshops
Whether your workshops are free or paid or even have multiple pricing options, Event Espresso can help
"There are a lot of apps for events and this was absolutely the smart choice for me"
Everything I need to hold seminars and workshops. Don't let the name 'Event Espresso' fool you. Packed into a few letters is one very powerful plug in. My website runs Event Espresso for all my seminars and workshops open to the public. I have the full package that integrates all my payments, populates my calendar, sends email confirmations that I can create my custom templates for. I can set up an event and wait for sign up notifications without having to keep checking. There are a lot of apps for events and this was absolutely the smart choice for me. –kimslaunwhite
A preview of a workshop (gardening) created with Event Espresso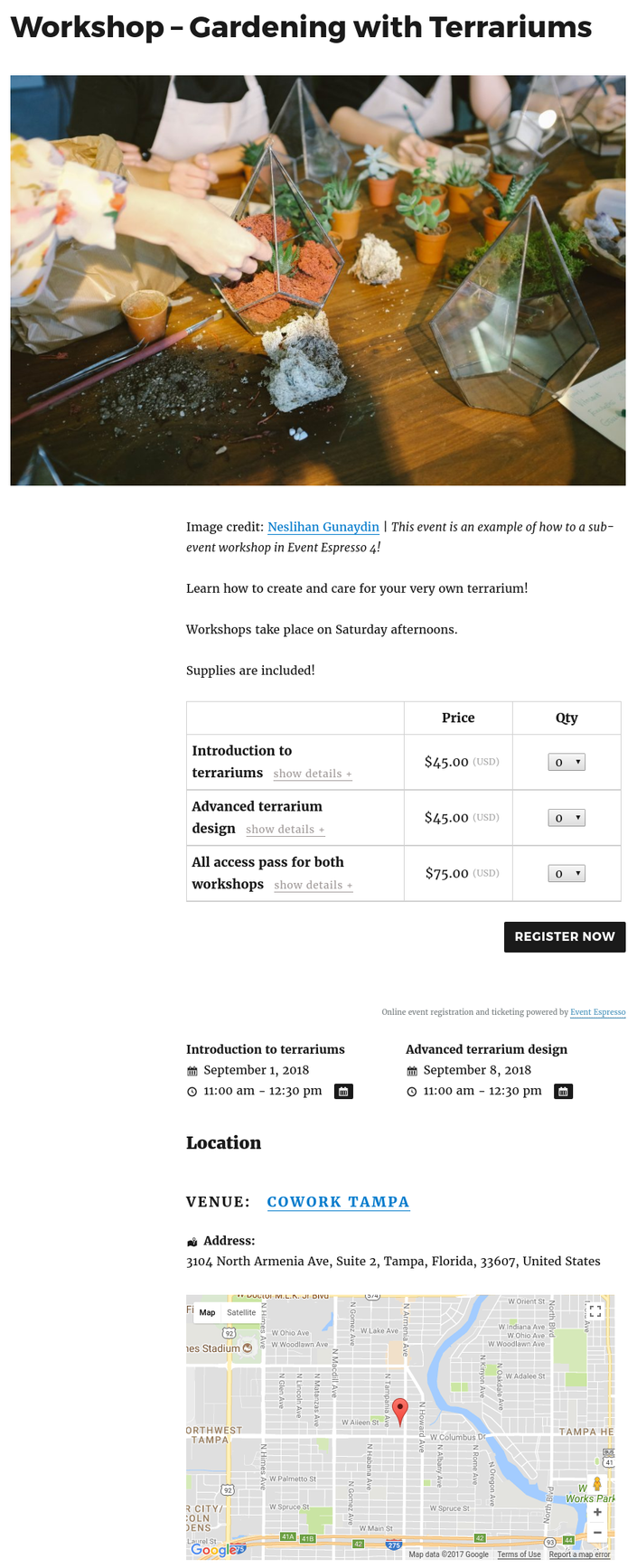 How to set up a workshop with WordPress and Event Espresso
See a workshop on a demo website for Event Espresso | Plan your workshops with Event Espresso →
Here are just a few organizations that trust Event Espresso for their workshops
Floral Creativity (Stroud, United Kingdom)
Celtic Arts Foundation (Washington, United States)
Wavelength Psychotherapy (Nova Scotia, Canada)
WithinReach (Washington, United States)
Studio Gaia (Illinois, United States)
TasCOSS (Tasmania, Australia)
Saskatchewan Archaeological Society (Saskatchewan, Canada)
My Style Camp (New York, United States)
Generous Earth Pottery (Wisconsin, United States)
Kadampa Meditation Centre (Birmingham, United Kingdom)
Good Shepherd Episcopal School (Virginia, United States)
Kiki's Quilt Shack (California, United States)
Popular questions about workshops and Event Espresso
Do I need to be a computer expert to use Event Espresso?
You don't need to be an expert with technology to use Event Espresso. If you are comfortable with creating a blog post on your existing WordPress website and browsing your WordPress dashboard (WP-admin), then you'll find Event Espresso familiar. We also have a quick start guide for Event Espresso which will help you get up and running fast through a series of recommendations and short video tutorials.
Do I need a WordPress website to use Event Espresso?
Yes, a WordPress website is required to run Event Espresso. However, our sister company, Event Smart offers event registration websites for workshops using Event Espresso and WordPress as the backbone, where events, calendars, and pricing option selectors can then be embedded on any website, such as Weebly, Wix, and WordPress.com websites.
I want to show my workshops on a calendar. Can I do that with Event Espresso?
Yes, with the Events Calendar extension, your workshops will automatically appear on a calendar. Your attendees can browse to a workshop and then click to begin a registration. The Events Calendar add-on is available as a separate purchase for the Personal support license or Developer support license. However, it is included in the Everything support license.
I want to allow more than one participant to register for my workshops at a time. Are group registrations available?
Yes, you can allow multiple attendees to register at once by enabling the Personal Information question group for additional registrants through the lower right area of the event editor and saving changes.
"Event Espresso works great and save me lots of time"
I give workshops on flower arrangements in Amsterdam. Event Espresso works great and saves me lots of time. I no longer need to send e-mails or invoices. –Dennis Lanzaat
30 Day Money-back Guarantee
Your purchase is 100% risk free! Try Event Espresso for a full 30 days. Our team will be there to help you along the way with any questions.
Ask a question about Event Espresso | Start with your workshops and Event Espresso →