With a tool like Event Espresso, your nonprofit, NGO, or charitable organization can raise funds faster by hosting of a variety of events in Virginia and have quick access to the funds after each online registration
Whether you are planning a fundraiser, hosting a workshop, or a social event, Event Espresso can help your organization with its registration needs
Your volunteers and staff can use Event Espresso for your events without needing to be a computer expert
Raise funds quicker by accepting secure online payments through PayPal, Stripe, or another supported payment service
Here is what one of our nonprofits is saying about Event Espresso
A preview of an annual charity field day created with Event Espresso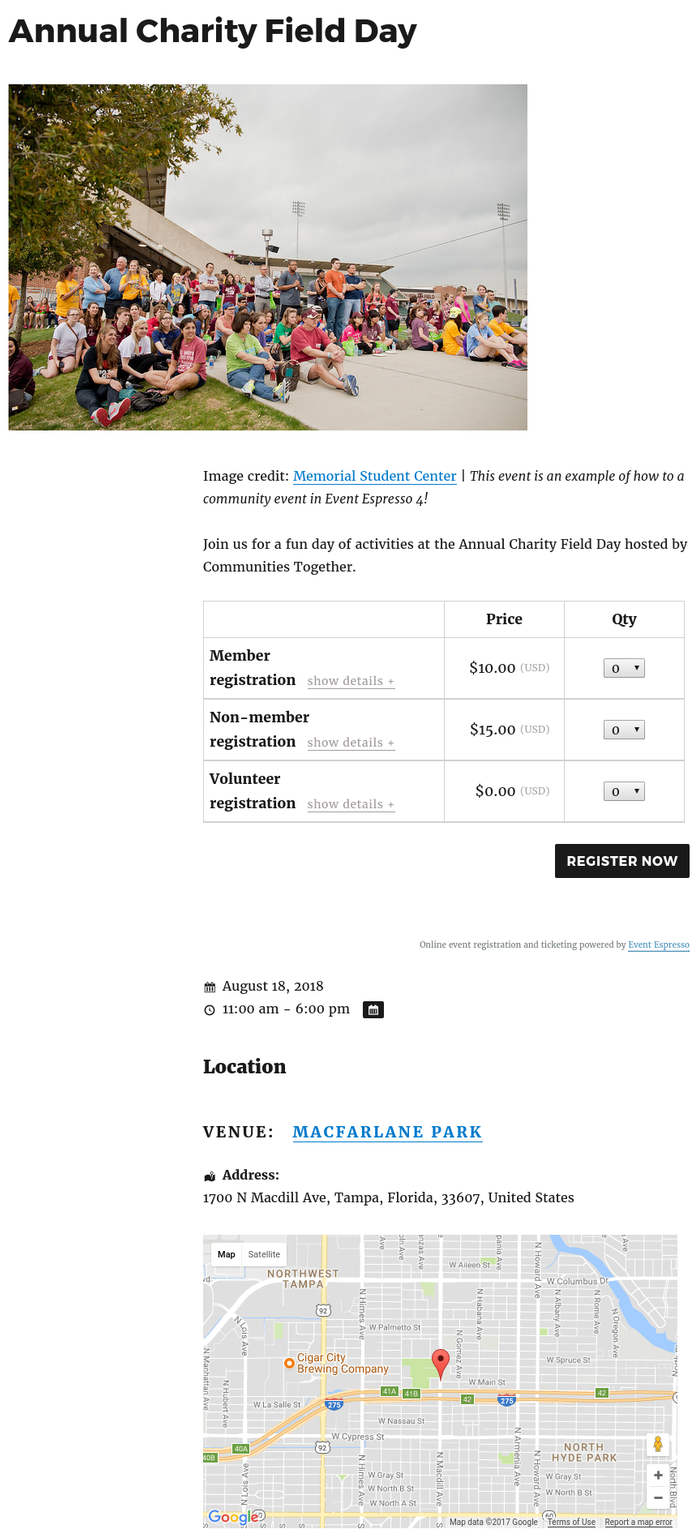 See a charity field day on a demo site | Organize events for your nonprofit with Event Espresso →
Here are just a few nonprofit organizations that trust Event Espresso for their events
Deaf Children Australia (Victoria, Australia)
Ma'ayan (Massachusetts, United States)
Virginia Municipal League (Virginia, United States)
Life's Toolbox (California, United States)
Journey Mental Health Center (Wisconsin, United States)
Institute for Small Business and Entrepreneurship (West Yorkshire, United Kingdom)
Viva-cité (Québec, Canada)
64th Brandywine of the Baden-Powell Service Association (Pennsylvania, United States)
A Time for Science (North Carolina, United States)
Richmond Shakespeare Festival (Indiana, United States)
Council of Self-Insured Public Agencies (California, United States)
Rotary 2241 (Bucharest, Romania)
Popular questions about nonprofit events and Event Espresso
My nonprofit organization plans events like conferences, workshops, camps, fundraisers, and more. Is Event Espresso flexible enough for a variety of events?
Yes, Event Espresso is versatile and can help with different events. You can create as many events as you would like including free events, paid events, and even display-only events where you want to show event information but not allow registrations.
Do I need to be a computer expert to use Event Espresso?
We know that your staff and volunteers work tirelessly to support your mission. You don't need to be an expert with technology to use Event Espresso. If you are comfortable with creating a blog post on your existing WordPress website and browsing your WordPress dashboard (WP-admin), then you'll find Event Espresso familiar. We also have a quick start guide which will help you get up and running fast through a series of recommendations and short video tutorials.
I want to show my nonprofit events on a calendar. Can I do that with Event Espresso?
Yes, with the Events Calendar extension, your events will automatically appear on a calendar. Your attendees can browse to an event and then click to begin a registration. The Events Calendar add-on is available as a separate purchase for the Personal support license or Developer support license. However, it is included in the Everything support license.
I want to allow more than one attendee to register for my nonprofit events at a time. Are group registrations available?
Yes, you can allow multiple attendees to register at once by enabling the Personal Information question group for additional registrants through the lower right area of the event editor and saving changes.
Here is another review of Event Espresso from one of our nonprofits
30 Day Money-back Guarantee
Your purchase is 100% risk free! Try Event Espresso for a full 30 days. Our team will be there to help you along the way with any questions.
Ask a question about Event Espresso | Get started now with Event Espresso →