Empowering Businesses and Organizations with Event Registration and Ticketing
Event Espresso is a top-of-the-line event registration and ticketing management plugin for WordPress.
Since 2009, our purpose has been to empower business and organization leaders with the event registration and ticketing management tools that maximize the success of their events.
Our vision is to become the world's leading event registration and ticketing provider, and model of profitability by offering our customers autonomy and value. We take pride in our products, including the personal support we offer to our customers.

Meet the Team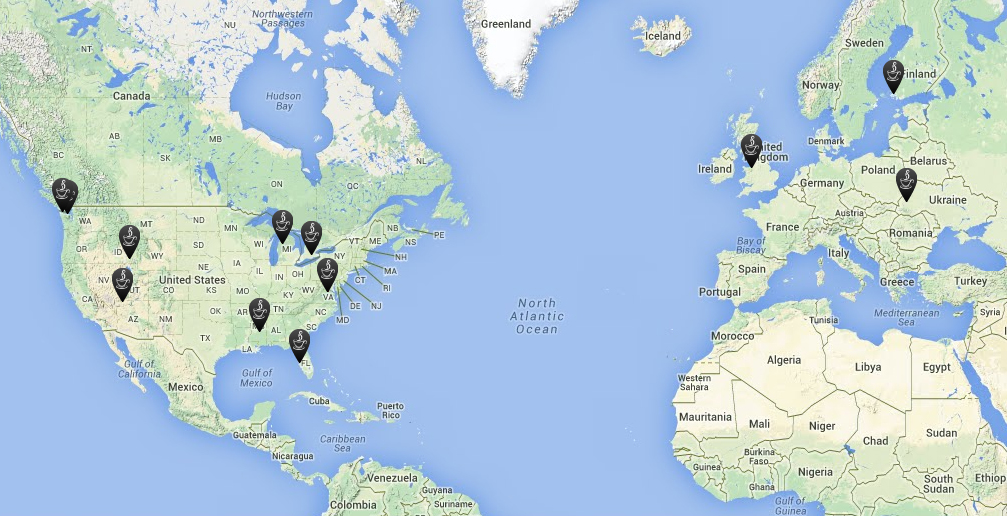 Seth Shoultes – Co-Founder, Development, Marketing
Twitter: @SethShoultes
Featured on WP Plugins.com, WP Candy, and WPMU.org
Seth is a full-time PHP programmer/web developer based in Saint George, Utah. He has worked in the web design and development industry since 2001. In 2005 Seth opened his web design studio Smart Website Solutions where he designed and developed websites for small and large businesses throughout Utah, Nevada, and Arizona.
In April of 2009, Seth finished the development of his first WordPress plugin called "Events Registration with PayPal IPN", later renamed to "Advanced Events Registration", and (finally!) in the early part of 2010 it was renamed to "Event Espresso". Over time, he became so busy with the development and support of Event Espresso that he quit his full-time job to focus all of his time and energy on building a company around the Event Espresso event registration and ticketing plugin for WordPress.
Garth Koyle – Co-Founder (Marketing, Customer Service, Product Management, Business Management, etc.)
Twitter: @GarthKoyle 
Garth has over 15 years of experience in business management. He earned both a Master's of Business Administration and a Master's of Healthcare Administration from the University of Utah in 2011. His strengths are in business management, strategy, entrepreneurship, marketing, and customer service. He competed in the 2011 Utah Entrepreneur Challenge for Event Espresso, taking home the grand prize of $40,000 for their business plan. He also innovates new business forecasting and management techniques specific to the WordPress community. He has spoken at conferences and workshops on entrepreneurship, business development, and leadership. He enjoys helping other people and small businesses be successful, his family and church, outdoor recreation and gadgets.
Josh Feck – Support Team Lead
Twitter: @joshfeck
Josh has helped out in the support forums since September of 2011 and has worked his way up the forum ladder to become the "CFJ" (chief forum janitor). When he's not helping someone out or working on a project, you'll often find him sneaking outside to ride his mountain bike or hitting the trails on foot. He lives in Traverse City, MI with his wife and three children.
Brent Christensen – Development
Twitter: @BrentEspresso
A PHP programmer originally from the worlds of CodeIgniter & ExpressionEngine, Brent was converted to WordPress soon after the release of WordPress 3.0. Prior to that, he and his wonderfully talented wife Natalie, were business partners at Pyfo Web Design & Development (PYFO stands for Put Your Face On), where he shared in the creation of custom web sites for a wide range of businesses and individuals.  They marvel daily over the antics of their two sons, and are currently living on the east coast of beautiful Vancouver Island in British Columbia, surrounded by the ocean, trees, and mountains.
Lorenzo Orlando Caum – Support
Lorenzo Orlando Caum is a self-starter, a supportive team player, and a results-oriented individual. He has been using WordPress since graduating from the University of South Florida with a Bachelor of Science in Business Administration in 2010. Lorenzo is a dual citizen of Jamaica and the United States and currently resides in Tampa, FL. He contributes to customer success as a member of the support team and works on other initiatives at Event Espresso.
Nazar Kolivoshka – Development
Bio Coming Soon
Manzoor Ahmad Wani – Development
Manzoor has been deploying WordPress since 2010. He is a WordPress Core Contributor, Open Source lover and a Telegram fan. He is the author of the most popular Telegram plugins for WordPress. PHP has been his first love which changed to modern JavaScript a few years back. Now he mostly works with React, React Native and GraphQL. Originally from the valley of Kashmir (India), he currently lives in mainland India and he loves to teach others what he knows.
Vadim Nicolai – Development
Vadim is a JavaScript developer. His expertise and interest lies mostly in front-end technologies. He was involved in a variety of projects ranging from simple landing pages to complex websites and apps for clients like Stanford and AARP. He lives in a little country from East Europe – Moldova.
When he is not focused on web-development, he enjoys reading books or listening to podcasts and spending time with his wife and kid.
Interested in joining the team?
---
If you are interested in becoming part of the Event Espresso team, then please look at the current openings below or if you're proactive you can contact us and tell us why you want to work with us.
We also welcome you to read more about Our philosophy.