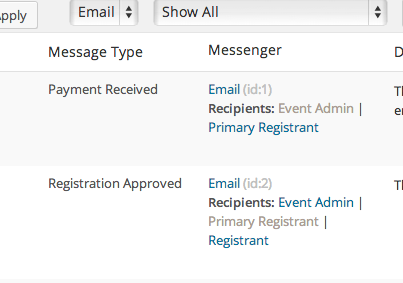 Message Types describe the kind of message that is being sent and describe what the content of the message. There are Message types for payment related messages (payment received, payment reminder, payment declined, refund issued). There are Message types for five registration related messages (registration approved, not approved registration, registration pending, registration declined, registration cancelled, newsletter). Message types are attached to triggers[1]
---
Triggers simply refer to the places where a message might be "triggered" to be sent. Examples are: when a payment is made, when a registration is approved, when a registration is cancelled. Notice the word when, that is indicative that triggers are very much event based. ?
You can control whether individual Message Types are active/inactive by either: 1) editing the message and toggling the control on/off, 2) dragging and dropping the message type from the Active to the Inactive Message Types panel in the Messages Settings tab, and 3) removing the recipient from the TO line in the message template.
If you see a Message Type, with a Messenger recipient grayed out, then the message is turned off for that recipient (e.g. the Event Admin, Primary Registrant, or Registrant).