We believe we can help you be successful by offering cutting edge tools that are also easy to use and very affordable. To continuously make Event Espresso better, we have to understand how you use Event Espresso; what things work well and what needs to be improved.
The User eXperience Improvement Program (UXIP) has been created to help us measure our progress against that very high expectation. In order to determine our progress we collect information about how our customers use our programs and some of the problems they encounter. We evaluate that data to determine how to improve Event Espresso and in other decisions about improving our product.
This program is also another way to vote on what existing features are the most important to you. The more you use Event Espresso, the more you tell us what features are important and where we need to continue improving.
Participation in the program is voluntary, and the end results are software improvements to empower you with better technology to meet your needs. If you choose not to participate in the UXIP, you effectively tell us that you'd prefer we not consider your needs to be as important as the customers who do participate in this program. We have no intention to misuse the information you provide, but rather to help you be more successful.
Frequently Asked Questions
Can you give me an example of how you use the data?
Sure. For example, suppose we discover two features that need to be fixed in the software; feature number 1 might take four hours to fix while feature number 2 might take 40 hours to fix and test. How do we know which bug we should fix first? Well, in order to make the right decision we need to know how many people are using both feature 1 and feature 2. We might find out that significantly more people are using feature 2 than feature 1. Even though it might be quicker to fix feature 1 it might not be the right project to do first. So knowing how people use Event Espresso is very important in prioritizing our time and improvement schedule.
Here's another example: Say an Event Espresso user has built something cool that they want to offer to the entire community and has asked us to add it as a new feature. If we agree to add that new feature it will be really important to measure whether that feature is being used or if it is just causing problems for everyone who uses it. Without that understanding we will only be able to make decisions based on anecdotal evidence and hunches.
Will UXIP collect information about attendees?
No. We do not collect any personally identifying information about any of your attendees. We're interested in how you're using Event Espresso, not who attends your events. Your attendee's personal information is your data and we do not want to infringe upon that relationship. We also do not want to have any of the liability of securing attendee information. Also, remember that Event Espresso never stores credit card information.
Is the User eXperience Improvement Program spyware?
No! We do not install new software on your server or computer. We only monitor Event Espresso-related processes and settings.
Does this program affect other parts of my website like other plugins or themes?
No! We do not interfere with your theme or other plugins. We want to be sure we don't cause any problems for you.
If you have questions or comments about this program, please contact us. For more information, please see our Privacy Policy.
How do I join or remove myself from the UXIP?
When you activate Event Espresso, you will be given the option to opt-out of the UIXP.

You can also change your enrollment via the UXIP Settings on the Event Espresso General Settings page.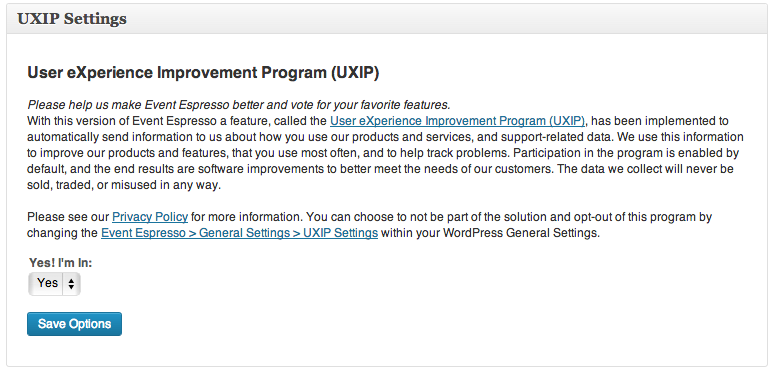 If I choose to participate, can I opt out later?
Yes. You can opt in or out at any time by changing your settings in the Event Espresso Organizations Settings page.