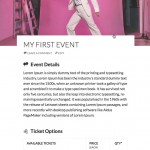 Event Espresso 4 (Beta) is now available! This is really exciting and there is a lot we'd like to share with you!
How do I get access to EE4?
EE4 is currently available to the public for sale and is released to Event Espresso 3 users for FREE. If you purchase a EE3 Support License you will also have free access to EE4.
You can even launch your own demo site for EE4 in just a few minutes. Click here to get started with your EE4 test drive site!
Attention Bloggers
– Wanna get your hands on a free copy of EE4 to review or want to do an interview? Please reach out to us on
Twitter
,
Facebook
, or
contact us
.
How is EE4 different than EE3?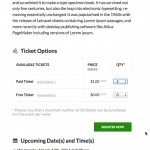 EE4 is very different from EE3 in more ways than we can probably list/describe/remember—so you're going to want to check it out. In general there are several important changes to the EE4: features, user interface, data structure,  coding method and price.
Features
EE3 and EE4 have different feature sets; some features are available in EE4 that have never been available in EE3:
….and 30+ more!
User Interface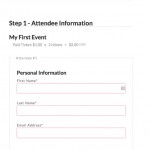 The user interface has been rebuilt to follow the new WordPress 3.8+ standard. We've rebuilt all the pages, added new icons, added mobile browser compatibility, optimized notifications and much more. We believe that EE4 is more elegant, easier to use and more powerful all at the same time.
Data Structure
The data structure has changed so that some event data is now custom post types (CPTs). CPTs make event-related data more available to standard WordPress functions and themes. This will make Event Espresso more accessible for both back-end (core) developers and front-end (theme) designers.
Coding Method
The coding method has changed from procedural coding to more heavily object-oriented programming. That means there are more files, but less code to do more advanced things. Experienced developers should appreciate all the work that went into this change. We believe it makes our event registration more powerful and robust, helping make your event registration experience better.
We really think you'll like what you see—especially as you get used to EE4 and realize all the new types of events it can power. We will continue making improvements in all of these areas and look forward for what is to come.
Price
While "in Beta", Event Espresso 4 will be discounted significantly (approx. 50%). As the EE4 matures to a "stable" development status, the price will rise. Those who purchase at this discounted rate are still entitled to 12 months of support and upgrades.
Screen Shots
Here are a few screen shots to show off some of the awesome new features!
Why did we spend so much time and money building Event Espresso 4?
We have sought feedback from you, the thousands of event managers and developers who rely on Event Espresso to make their events successful. Your feedback has focused on one general theme. You want Event Espresso to do more and be more stable.
It is difficult to add more features to a system that was initially designed to for a more narrow focus. As we continue to add those new features Event Espresso has become more difficult to use, setup and/or customize. The added features has also made the core code more complex and less reliable, thus the increase in bugs.
As your requirements for Event Espresso have evolved (and continue to evolve), it became clear that parts of the code have gotten too complex and must be refactored in order to support new ideas. The longer we delayed refactoring Event Espresso, and the more code is written for EE3, the more difficult it becomes to refactor Event Espresso to meet your needs today and in the future.
In short, we spent a lot of money and several years building Event Espresso 4 because we wanted to help you and your events be more successful.
Why did it take so long to build Event Espresso 4?
When we started building version 3.2, we didn't anticipate that it would be such a major change. However, as we started to refactor one system we saw it necessary (and better timing) to refactor other systems. Event Espresso 4 introduces several major changes including:
A new user interface
A single page checkout
A new messages system
New transaction management
A new pricing management system
A new taxes management system
Custom post types for events, venues, and contacts
Changing our programming approach to object-oriented programming
and much more!
All those systems are quite interconnected and complex, so updating it took a lot of time and resources. We're just as frustrated EE4 took as long to release as you, but we feel this decision will be the best for you in the long-run. We're confident that we (and other developers) can build really great event registration websites on EE4 for a very long time to come.
What's coming next in Event Espresso 4?
We view our roadmap in two ways: short(er)-term projects and long(er)-term projects. Our roadmap is subject to change at any time.
Our short(er)-term projects include:
Making EE3 add-ons compatible with EE4.
Promotion codes.
Refactoring gateways.
Our Long(er)-term projects include:
Integration with third-party plugins and services.
Advanced messages functionality.
Advanced registration form functionality.
New add-ons.
Event themes.
Continued code optimization.
As always, you're invited to participate as developers or sponsors.
What's the plan for Event Espresso 3?
EE4 beta begins the official process of phasing out EE3. Going forward, we will focus new feature development resources on EE4 and only maintenance resources to EE3. As the EE4 feature set (including add-ons) exceeds those that are currently available with EE3 we will no longer sell or support EE3.
Those who purchase a EE3 support license  also have access to the core EE4 files and we recommend that they evaluate EE4 to see if will meet your needs at this time. We have provided tools to use EE3 data in EE4 which can help you start using EE4 sooner.
The future of event registration and ticketing is with Event Espresso 4 and we hope you'll join us today for that amazing journey.
Can I Use EE4 instead of EE3?
Depending on your situation you might (or might not) want to replace EE3 with EE4. In general, our recommendation hinges on: what features you require, and whether you want to use your EE3 data in EE4.
Some features are not available in EE4 that are available in EE3:
Coupon/Discount codes
Wait lists
Staff manager
Support for EE3 add-ons (see below)
None of the EE3 add-ons are compatible with EE4 at this time (but they are on our short-list). You will need to make the determination about which features your project requires and which Event Espresso version will meet your needs.
Using EE3 Data in EE4
Event Espresso 4 is ready to accept unaltered data that has been prepared by Event Espresso 3.1.36 (or greater). If you've not modified your EE3 database structure then you can migrate your data from EE3 to EE4. If you have modified your database structure, the migration scripts may not function properly (see below).
When to migrate EE3 data to EE4:
If you are using  Event Espresso version  3.1.36 (or greater) without customization that changes the data structure (e.g. additional database tables, columns, etc.) you can migrate your database from EE3 to EE4.
When NOT to migrate EE3 data to EE4:
We recommend NOT migrating your EE3 data to EE4 if you: have customized Event Espresso database tables or columns that weren't included with EE3 OR are using EE3 on a multi-site installation of WordPress.
What is the development status of Event Espresso 4?
After years of development and months of testing, we have finished adding features (to this version) and all major bugs have been resolved. We do expect you to be able to use EE4 as if it were a stable product, with the exception that additional bugs may be identified through more extensive testing with your specific use-case. Please report any suspected bugs to the support forums. For a short period, we will be focused on fixing bugs that are found by users and that can be verified by our support staff, then release patches ASAP. After EE4 is released as a "non-Beta" product we will commence work on our development road map.
Reporting Bugs
We have spent, literally, thousands of hours developing, testing and debugging EE4, but undoubtedly some of you may encounter issues with EE4 while testing it in your given use-case, the plugins and themes you use, etc. Please report any unexpected behavior, error messages, or bugs to the support forums so we can keep all the requests organized and fixed as soon as possible. Please create a new thread for each issue so that it can be addressed specifically. Otherwise it might confused with other issues or missed among a lengthy discussion.
Questions or Comments? Tell us what you think
Event Espresso 4 is a big step forward in the functionality and power of WordPress events plugins. We really think you'll like what EE4 is now, what you can do with it now, and what it will become. Launch your own test drive of Event Espresso 4 in minutes and let us know what you're thinking.