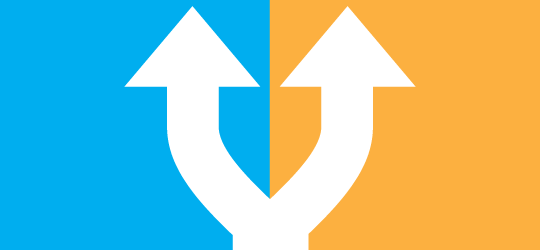 Choosing the Right Event Registration Strategy Matters
The last five years has brought about a lot of interesting discussions about event registration strategies. One of the most frequent and heated topics has always been about how much information do you give potential customers, how many steps do they need to complete in order to finish the online event registration process?
My argument has always been that it will depend on:
the type of website you have
the potential customers you are trying to attract to your events
the experience you want to offer attendees
There are two polar strategies that are analogous to the experience of going to a golf course verses going to an amusement park.
Relational Event Registration

The relational event registration strategy similar to going to a golf course and is based on:
Catering to the needs of very specific types of customers and attendees.
Customers are free to browse event listings but all the events should be closely related.
The sales process isn't a sales process at all, it's a concierge service.
Customer relationships are built and maintained over a lifetime.
Sometimes guests are given free access or services in effort to establish a relationship; reciprocity works both directions.
Managing your event registration process similar to a golf course is done by making it as simple and specific as possible. The event description should be rather simplistic and easy to understand but offer enough information for your customers to understand the event and become comfortable with registering. The custom event registration forms should be as few steps as possible and as few pages as possible. This does not mean that you have to avoid and and all up-selling. From time-to-time don't they offer a cart or beverage with your round of golf?
The golfer has specific intentions for coming to the golf course. Thet look through products at the pro shop and make a purchase, work on their swing mechanics by hitting a bucket of balls, do some putting on the practice green or play a round of golf. As a customer, the golfer is always catered to and the sales pitches are never unrelated. The pro shop is helpful and directive, but never pushy. In general, the golf course tries to establish a relationship that will be valuable over a lifetime.The putting greens are available to anyone who comes to the course, even if you're not a paying customer. You can even hire a caddy to give you personalized attention throughout your round of golf to watch your swing and suggest strategies for playing the course.
The important thing is to consider who your potential customers are and what will serve them best. What kind of event registration process will meet their expectations and what will keep them coming back? If you have customers that are busy, but are familiar with your website and products, and that will pay extra for convenience, then make the event registration process really easy. Don't be afraid to give them one up-selling opportunity but the option must be really easily understood and easily accepted or rejected so they can make a quick decision and move on.
Transactional Event Registration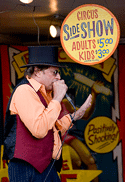 The transactional event registration strategy similar to going to an amusement park and is based on:
Presenting the customer/participant multiple opportunities to register for multiple events.
Incentivizing customers to purchase more products and increase the final purchase amount.
The relationship between the event organizer and attendee is short-term or fleeting.
Customers buy because of promotions or impulses.
Think back to the last time you went to an amusement park, did you have a specific plan for the entire day or did you more or less wander throughout the park? You probably planned what time of day you wanted to go on the rides that get you wet and the ones you wanted to go on with and without kids, etc. You were probably drawn in by a barker to toss a few baseballs or shoot a few targets to win a giant teddy bear. You (or your child) may have even gotten lost in the amusement park and had to ask for directions to get out! After you've  pushed yourself to the the limit to try and have fun and emptied your wallet, you swear you'll never go back.
If you're using event registration software to manage your event registration process you would do some of the following:
Use limited-time or limited-quantity promotional offers and discount codes.
Take every new page (email, phone call, fax, etc.) as a new opportunity to advertise or offer a new experience.
Offer other events or products from other vendors as an affiliate, in case you don't have the exact product/event they're looking for and someone else does. At least you can get a commission from the sale if they register with another event manager.
This approach can be damaging to a relationship and can even discourage purchases (immediate and future), but the pressured sales process maximize the transaction.
Register It
Depending on how your website is designed, who your customers are and their intentions (relational or transactional) you should consider the event registration process you are taking them through in order to join your events. Make the registration process as easy as possible if you want to build a relationship with your customers. If you're never going to interact with your customers again then a relational event registration process may be the best strategy. If you don't plan to engage with your customers very frequently then the transactional event registration strategy might be more successful.
Smell the Aroma
You can get the most out of your event registration process with Event Espresso (WordPress events plugin). The relational event registration strategy is accomplished by keeping your event titles simple, your event descriptions short, the information required to register is kept to a minimum, and the event plugin can even be configured to complete the registration process before receiving payment which affords you the opportunity to give the potential customer individual attention to finish the registration process if they happen to abandon it. If you want to pursue a transactional strategy then give the potential customer as many registration options as you can imagine. Add information to products and other events in the description area of these events and include that same information in a customized confirmation email. Eventually, Event Espresso will include a shopping cart option that will allow you to add related items to your events to try and up-sell the customer.
Which event registration strategy do you use or have you ever really thought about it? Tell me why you think your strategy does or doesn't work, please contact us at your convenience, or post to the pre-sales forums.