Finding the right event ticketing solution can be a challenging and time-consuming task. This is perhaps why many familiar with the popular e-commerce solution WooCommerce will resort to using this platform as a possible solution for selling event tickets.
However, WooCommerce is not designed as an event registration solution and that can impact your bottom line and your events in the long run. As an event organizer, you need a solution that offers features specific to selling tickets and managing your event registrations – like Event Espresso.

Event Espresso is an event ticketing plugin for WordPress that offers a multitude of useful event registration and ticketing features that makes it easy for event organizers to manage events. In this post, we will look at some of the reasons why Event Espresso is the best WooCommerce alternative for event ticketing.
Why WooCommerce Isn't the Best Solution for Selling Event Tickets

Although WooCommerce is perhaps the most popular e-commerce plugin for WordPress, it's not the best option available for selling event tickets. Here are some reasons why:
The free WooCommerce plugin doesn't offer features that are designed specifically for selling tickets; instead it's designed for selling products. You would have to add tickets as products to your WooCommerce store and display them on your site in the same way as any other WooCommerce store. This doesn't create a good user experience for prospective attendees.
If you use an event management plugin that uses WooCommerce to help you sell tickets, you'll need to install multiple plugins on your site. For instance, the free WP Event Manager plugin offers a paid add-on that you can use to sell tickets through WooCommerce.
Third-party WooCommerce extensions (such as Tickets for WooCommerce or WooCommerce Box Office) are expensive solutions that offer limited functionality as compared to an event registration and ticketing plugin like Event Espresso. For instance, they don't offer essential features like the option to create custom questions in registration forms or attendee checkin with mobile apps.
Event Espresso: The Better Event Ticketing Solution for Your Next Event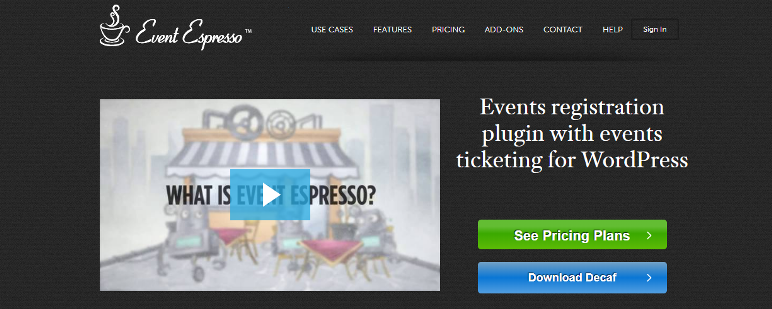 Event Espresso is an event registration and ticketing plugin for WordPress that makes it incredibly easy for event organizers to create and sell tickets. Here, we'll take a look at how Event Espresso is a WooCommerce alternative for event ticketing.
#1: Comparing Features
Since the core WooCommerce plugin doesn't offer event ticketing-specific features, you'll have to add the tickets as WooCommerce Products to your online store. With WooCommerce, you have the option to sell both physical and digital goods.
Event Espresso comes with a handful of useful features that will help you create and sell event tickets:
#2: Integrating Payment Gateways
With WooCommerce, you're able to accept payments made through major credit cards, PayPal, bank transfers, and cash on delivery. If you'd like to offer attendees additional payment options, you can purchase premium payment gateway extensions (ranging from $79 to $199) to integrate with your online store.
Event Espresso, on the other hand, offers several payment gateways to make it easy for prospective attendees to make payments. Out of the box, you get six different built-in payment gateways including PayPal Express and Authorize.net AIM. And depending on your specific payment preferences, you can choose from the many additional payment gateways offered as premium add-ons.
In addition to this, you have the option to enable multiple gateways at the same time giving your registrants the option to make payments using their credit card, PayPal, or an offline payment system.
#3: Customizations and User Experience
If you choose to use WooCommerce to sell event tickets, you'll need to install a WordPress theme that is compatible with the plugin. When a prospective attendee lands on your website and finds a ticket they'd like to buy, they'll have two options. They can either:
Add the ticket to their shopping cart.

Click on the ticket and be redirected to a single product page for more information.
Either way, the customer journey WooCommerce offers isn't intuitive for purchasing event tickets.
Event Espresso provides you with many options to improve the user experience your site delivers by customizing your events and registration pages. By improving your site's visual appeal, you'll be able to attract more attendees and, in turn, sell more tickets.
One of the best things about using the Event Espresso plugin for event ticketing is that attendees will receive automatic confirmation emails when they register or make a payment. By using easy-to-use shortcodes, you can customize these confirmation emails to include registration or payment related information.
#4: Comparing Costs
Although you won't be charged a per ticket fee for selling tickets with WooCommerce, you will likely have to spend money on other things. Let's step through the basics:
A WooCommerce theme.

You'll need to find a theme that's built specifically for WooCommerce. The plugin does come with the free Storefront theme but a premium theme will cost you anywhere between $20 to $100 (one-time fee or billed annually – depending on the theme).

An SSL certificate.

WooCommerce doesn't come with an

SSL certificate

which is necessary for accepting online payments. If your hosting provider offers free SSL certificates, you can ask them to install one for you, otherwise you'll have to spend at least around $10 per year for one.
While an Event Espresso site might cost you slightly more upfront, you will save money over time. And you'll be getting access to advanced, event-specific features and functionality.
For instance, Event Espresso gives you the option to sell printable tickets directly to attendees and collect payments through different payment gateways. What's more is that you won't be charged a per ticket fee. In addition to this, Event Espresso supports graduated ticket pricing meaning you can offer discounts whenever an attendee purchases a certain number of tickets.
With Event Espresso's optional feature Printable Tickets, you'll be able to send attendees custom-designed printable tickets that can be scanned with a mobile device. This makes it easy for attendees to get ahold of their ticket without having to wait for delivery and ticket scanning via a mobile app or a barcode scanner speeds up the check-in process for you on the day of the event.
Out of the box, Event Espresso lets you offer several payment options to prospective attendees increasing your chances of selling more tickets. PayPal Express, PayPal Payments Pro, Authorize.net, electronic funds transfer, and more payment options can be added as payment options for your events. Additional payment gateways will cost you between $39.95 to $99.95 – depending on which one you select.
Be sure to check out this article How Much Does an Event Espresso Site Cost, for more information on how much it'll cost you to set everything up and how much you'll save.
Conclusion
While WooCommerce is an excellent plugin for selling physical and digital products through WordPress, it's not the best option for selling event tickets. With WooCommerce you simply don't get the event-specific features that Event Espresso offers.
Event Espresso is a WooCommerce alternative for event ticketing that offers event-specific registration and ticketing functionality. Instead of pairing WooCommerce up with third-party plugins, you can simply use Event Espresso to power your entire event website.
What are some of the features you look for in an event ticketing solution? Let us know by commenting below.