What's the best way to manage your event registrations in WordPress?
In this article we will compare two popular WordPress plugins for event management: Event Organiser and Event Espresso.
Promoting your events online is vital to ensuring that attendance is high. Running an event registration and ticketing website lets you make the key details about your events easily accessible, such as dates, times, and locations. However, sharing information is only one aspect of hosting a successful event.
In fact, you can actually use your website to manage your events – before, during, and after. As long as you use the right tools, you can streamline the process of attracting attention, selling tickets and registrations, tracking attendance, and much more.

With that in mind, we're going to look at two event management solutions for WordPress websites – Event Organiser and Event Espresso. We'll compare their pricing and features, and help you decide which one is the best fit for your event website. Let's get started!
The Tools You Need to Manage Your Event Registrations Online
Running even the smallest event involves several moving parts. These complexities are magnified when hosting larger scale events, or if you are handling a lot of events at the same time.

Therefore, it's worth putting some thought into how you will manage your event(s), to avoid the hassle and extra time it takes to manage your events manually. Having an event registration website as the central hub is a good start, but you'll likely need additional tools if you want to pull off each event without a hitch.

When it comes to event management, you'll want a solution that enables you to:
Sell tickets and registrations through your website, and customize the ordering process to suit your specific needs.

Offer key information about each event, along with helpful resources such venue locations and maps.

Display a calendar of all your events, so visitors can see what's happening and when.

Manage other aspects of the event, such as sending confirmation emails and tracking attendance.
If you're a WordPress user, you have access to several tools that will help you do at least one of these things. However, to keep things simple you'll want to look for a solution that can help you manage all aspects of your events, including registrations, and ticketing in one package. Let's look at two potential options you may want to consider.
Event Organiser vs. Event Espresso: Key Features and Pricing
While there are plenty of WordPress plugins that provide events-related features, we're going to focus on two options that aim to provide a fully-featured solution. First up, we have Event Organiser:
This plugin comes in both free and premium versions and provides a variety of features to help you manage events on your site. With the free version, you can:
Create events using a custom post type, and add whatever information you like to them

Display a basic events calendar, list, or agenda using dedicated widgets

Organize events using categories and tags

Manage event venues, and integrate with Google Maps
In addition to these features, the premium version also lets you
Sell tickets to your events, using PayPal or offline payments

Send customizable confirmation emails

View and manage event bookings in your WordPress dashboard
As you can see, the premium version is a necessity if you're looking to sell registrations for your events through your website. It also offers a few other useful options that can be helpful for organizing and keeping track of all your bookings.

Next, let's take a look at Event Espresso: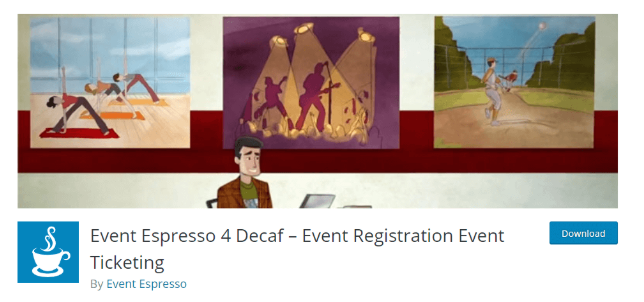 This ticketing and registration plugin is designed to add a fully-featured events management system to your WordPress site. It also comes in free and premium flavors. Using the free version – Event Espresso Decaf – you can:
Use a custom post type to create your events, including details such as times, ticket options, and venues

Organize events using categories and tags

Create and manage event venues

Sell tickets, bookings, and registrations to your events, and receive event payments with PayPal

Send automated confirmation emails

Use mobile apps to scan tickets and track attendance during the events themselves
In other words, the free version of Event Espresso enables you to do just about everything Event Organiser does, including some features only available in that plugin's premium version.
Of course, Event Espresso has its own premium tier, which lets you:
Set up a customizable events calendar.

Accept payments using additional gateways, such as Authorize.net and PayPal Pro.

Offer multiple pricing and ticket options for a single event.

Set up your events with Multiple Dates and Times per event

Customize your automatic confirmation email messages

Choose from more than 30 advanced features to extend the functionality of your event system
As for pricing, both plugins offer various premium tiers. A license and one year of support for Event Organiser will cost you £40, or about $51, while Event Espresso is $79.95 for a one-site license and a year of support and updates.
How to Choose Between Event Organiser and Event Espresso
Ultimately, both plugins offer some useful features for your event registration website. Which one you choose will come down to your needs, goals, and budget.

If all you are looking to do is list events on your website, and you don't mind selling tickets and managing attendance manually or using a third-party tool, Event Organiser is a user-friendly solution. It allows  you to create and customize events on your site, making them easy for visitors to find.

However, if you also want to sell tickets and registrations, you will need the premium version of Event Organiser to do so. This plugin is also lacking a few key management options, such as the ability to track attendance and scan tickets.

On the other hand, both the free and premium versions of Event Espresso offer more events management features than the similar tiers of Event Organiser do. You'll be able to manage nearly every aspect of your events with the premium version, and even the free version lets you sell tickets online.

While the cost of Event Espresso is slightly higher, the plugin makes up it by offering a wider range of options for event organizers. In addition, the free version is more than sufficient for many event websites and gives you the choice to upgrade at any time if you need more functionality.
Conclusion
If you are looking for a WordPress event management plugin, Event Organiser and Event Espresso are two names you're bound to run across. In many cases, you'll end up trying to decide which of the two is a better solution for your event's website.

Event Organiser is a straightforward and user-friendly plugin, which lets you create and organize events on your website. However, it lacks some of the more advanced management options you might need. Event Espresso, on the other hand, is a fully-featured ticketing and registration solution – even the free version provides several essential features.

Have you ever used Event Organiser or Event Espresso, and what was your experience like? Share your thoughts in the comments section below!