At Event Espresso, our goal is to make your life just a little bit simpler. Whether you are organizing a cooking class, rock concert, or business trade show, we want to make your online event registration and your events go smoother. We believe you should be able to use today's best tools, like smartphones, to help you take control of your event—no matter where you are.

That's why we're so happy to be working with Qrious, another innovator in event organization. Qrious is a leader in smartphone lead retrieval for conferences and trade shows, showing that face-to-face interaction is still an indispensable tool for today's businesses. This official integration with Event Espresso is a perfect example of how Event Espresso's online event registration JSON API empowers event organizers by giving them the tools to deliver more value to their exhibitors and sponsors.
"We're so excited (really!) to integrate with Event Espresso. So many of our customers use WordPress to power their event web sites, and now we can recommend a solution that enables them to continue using that platform while seamlessly integrating with our own. It's a win-win-win proposition." — John Federico, CEO & Co-founder, Qrious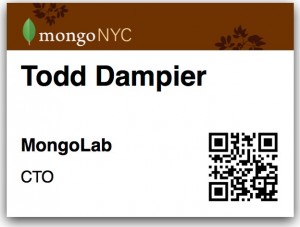 About Qrious
As a complementary service to Event Espresso, lead retrieval from Qrious helps maximize the time, money and effort that your sponsors and exhibitors spend at your conference or event, by making it easy for them to scan badges, collect contact information and further qualify leads. Qrious has made lead capture more accessible and affordable for small and medium-sized conferences.
Contact Qrious if you're curious (pun intended) about how lead retrieval, attendance tracking and turnkey badging can help your events.
About Event Espresso
Event Espresso is the most powerful event registration and ticketing plugin available for WordPress. EE empowers you to manage events, collect payment and customer information, and even allow customers to print tickets that you can verify at the door using our mobile ticketing apps. The official integration with Event Espresso is powered by the new JSON API that was released just earlier this year. Offering the best customer service and support in the industry, EE is integrated with dozens of payment options and merchant accounts.