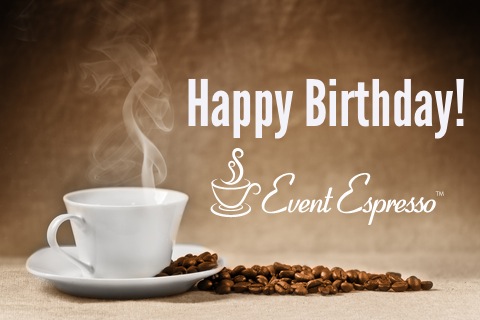 We love big events, right!? Well, this week, and through the end of April, we are celebrating Event Espresso's 4th birthday. Yes, we are celebrating our birthday for 2 weeks! Details in a moment…
It has been a wild ride over the last four years, and we are stronger than ever. This year is looking to be the best yet! Our "tEEm" is growing, the plugin is more solid than ever, and 2013 is forecasted to be a rocking year for WordPress.
We want to thank YOU, our loyal customers for helping us remain the premiere event registration plugin for WordPress. We would also like to thank the WordPress community as a whole for being such an awesome community to allow us to do what we love; and that is to help you make your events a huge success.
To celebrate Event Espresso's birthday, we are offering a 20% discount on all license packages, as well as add-ons. Just use the code HAPPYBIRTHDAY at checkout to celebrate with us!
We hope 2013 has been, and will continue to be, your best year yet!
What are you waiting for? Let the festivities begin! Click here to purchase Event Espresso using the 20% off discount code.