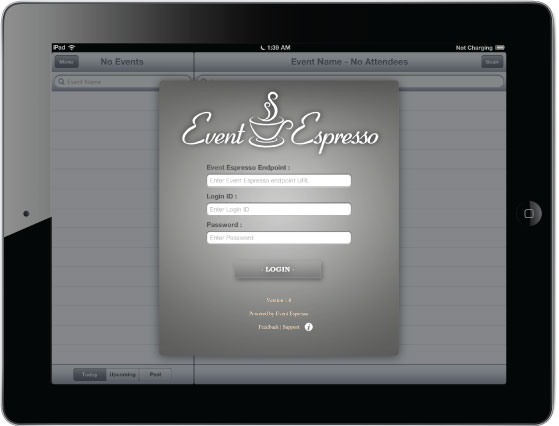 The Event Espresso iPad app allows you to transform your iPad or iPad Mini into an onsite attendee management tool. This sweet little app allows you to quickly check-in attendees and view information at your events and attendees. Built-in ticket scanning capabilities allow you to scan tickets at your classes, meetings, conventions, concerts, and everything in between.
What can I do with this thing?
This thing makes your life easier on the day of the event. The large screen display allows you to see more information quickly, and track the current situation with your event registration. Here are few more fun things you can do with it:
Detailed ticket scanning system
Manual attendee check-in and check-out
Detailed registration and check-in tracking
Attendee registration forms (coming soon)
Detailed attendee, event, and venue information
Where can I download it?

The Event Espresso HD iPad app is part of our growing library of mobile apps and can be downloaded from the iTunes App Store. Don't have an iPad? You can use our iPhone/iPod or Android apps to scan tickets as well. More information on our Ticketing addon page.

Important Note
:
You will need to download and install the new JSON API addon to connect your iPad to your website. If you have a current Business, Developer, or Ticketing support license, the JSON API add-on will be available in your account.
How does it work?
Using the Event Espresso JSON API addon (a required plugin), once installed on your WordPress website, the iPad app can retrieve a complete data set of events and attendee data, allowing you access to most of the attendee admin features of Event Espresso. Future versions of the app will allow you to add and edit event and attendee data, directly from the app.
Who is this for?
Anyone using Event Espresso to manage events/classes and accepting registrations on their WordPress and Event Espresso powered website can use this app to scan tickets, monitor attendee access, view registration details, and more.
What does the app look like?
Here are a few screen shots of the app in action: