Country Settings
Cater your registration and transactions to the countries, states and provinces where you host events.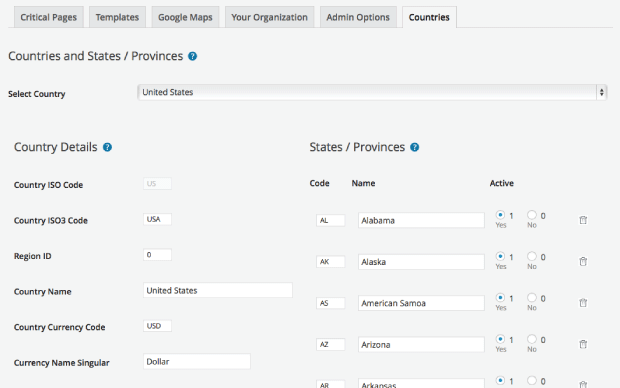 The Country Settings allow event managers to configure many of the country and currency settings that will be used throughout Event Espresso, including:
Currency
Currency Name, singular and plural
Currency sign
Currency sign before/after number
Currency decimal places (none, 1, 2 3,)
Currency decimal mark character (comma or decimal)
Currency thousands separator (comma or decimal)
Country telephone code
European Union Country indicator
Country appears as an option in the registration form
Activate/deactivate states/provinces
Manage (add, edit, delete) states/provinces
Allow users to add states/provinces during checkout
Manage (add, ignore) user-submitted states/provinces
Country Details
User-submitted Countries, States/Provinces
When a potential registrant is filling out their address information but the country and/or state/province is not available, they are presented with an option to add a new country state/province.

The attendee is asked to select their country and add their state/province.
Manage user-submitted states/provinces
When a registrant submits their own state/province, event managers are given the opportunity to activate or ignore the new state/province.