Event Espresso 4 provides one-way integration with iCal compatible calendars, including Google Calendar, Apple Calendar, Microsoft Outlook, etc. Using the Event Espresso 4 iCal feature, event attendees can quickly add events they have registered for to their personal calendar. The iCal download link includes details such the date and time of the event, venue name, and venue location, etc. That information is then added to the customer's personal calendar.
What is iCal?
iCalendar, or iCal for short, is a standard method of transferring calendar information between computer systems. The standard allows products from many vendors to transfer calendar information between each other.  iCalendar files typically have the file extension ".ical" ".ics" ".ifb"  or ".icalendar" with a MIME type of "text/calendar". The iCalendar open standard should not be confused with iCal, the former name for the commercial product "Calendar" developed by Apple Computer.
iCalendar is designed to be independent of the transport protocol. For example, individual events can be sent by traditional email. Web servers (using just the HTTP protocol) are often used to distribute iCalendar data about an event and to publish busy times of an individual.
How is iCal Implemented in Event Espresso 4?
There are three different ways we've applied iCal download links in Event Espresso 4. I'll cover them below.
Event Listings Page
The first place your customers will notice the iCal download links is in the event listings. Your customers can click the iCal download link/button to add the event details to their personal calendar. Here's how it might look on your site:

iCal Download Button Example in Event List
Event Details Page
Similar to the event listings page, the second place your attendees will be introduced to the iCal download link/button is when viewing the details about individual events, as seen in this example;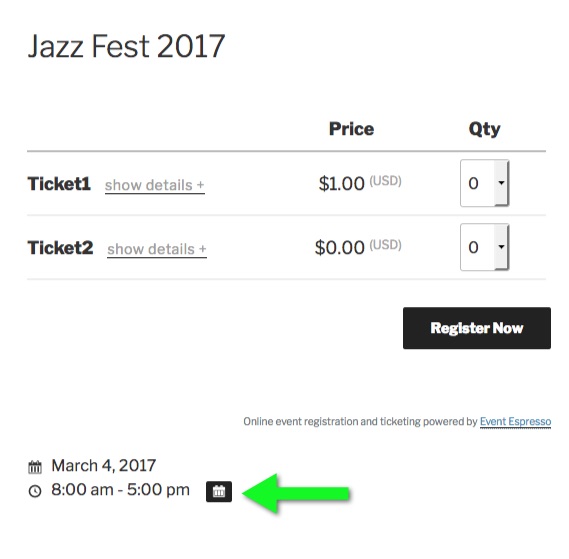 iCal Download Button Example below ticket selector
[Optional] Registration Confirmation Messages
The final place your customers might see an iCal download text link is directly after registering for an event on your site, via the "Registration Confirmation" email. I say they might see the link because this location is optional and can be activated by adding a shortcode to your message templates, as seen in the "How to Add iCal Download Links to Messages" documentation.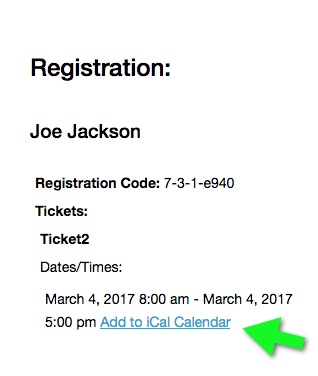 Registration Confirmation Email Message