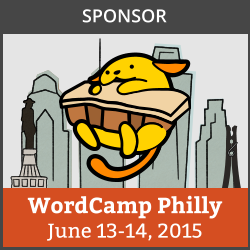 Live in, or around Pennsylvania? If so, you might want to make sure you check out WordCamp Philly this year. Why? Because WordCamp Philly is freaking awesome, and we just happen to be a Silver Level sponsor this year.
If you want to learn more about WordPress, meet new people, and have a great time while doing so, then WordCamp Philly is the place to be. You might even get to meet some of the biggest names in the WordPress community, such as Brad Williams, Lisa Sabin-Wilson, and Dre Armeda from WebDev Studios, as well as an astounding group of speakers.
This looks like an amazing event, and we hope to see you there! If you plan on attending, please let us know in the comments section below. I (Seth Shoultes) will also be there, handing out shirts, so if you're around, come say hello 🙂
When is WordCamp Philly?
WordCamp Philly 2015 is scheduled for Saturday and Sunday, June 13th and 14th!
Schedule
This year's schedule looks jam-packed with great speakers, and lot's of great sessions!
What is WordCamp?
WordCamp is a conference that focuses on everything WordPress. WordCamps are informal, community-organized events that are put together by WordPress users like you. Everyone from casual users to core developers participate, share ideas, and get to know each other.