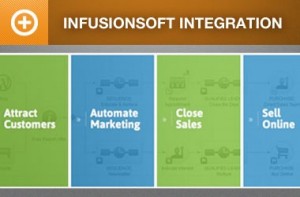 At Event Espresso we're all about making our customers' lives easier. We know that your time is precious. That's why we are excited to announce the stable release of our Infusionsoft Integration add-on  for Event Espresso 4.
Now, with Event Espresso 4 running on your website, you can push valuable customer data from event registrations on your website straight to your Infusionsoft database. No more copying and pasting data. Did I mention the process is automated?
Here is how the integration works:
1. A customer registers for an event on your website and the data is transferred to Infusionsoft.
2. The customer pays for the event using either a built-in Event Espresso payment gateway.
3. The customer is shown a payment confirmation directly on your website.
4. Once the customer has made a successful payment, the payment record is updated within the Infusionsoft app.
Infusionsoft's all-in-one sales and marketing software is built to meet the specific needs of small business. With the Event Espresso 4 Infusionsoft integration add-on, you can completely automate your customer relations and email marketing campaigns.
Already have the
EE3
version? No problem! Existing license holders can take advantage of this tool today, at no extra charge!
Expand your possibilities today with the Infusionsoft integration for Event Espresso.