Event Espresso is a WordPress golf tournament plugin that can help you raise funds and meet your fundraising goals for your cause by helping you organize a golf fundraiser or golf outing in Virginia
Accept registrations for groups of players
Allow pre-set team registrations such as a twosome or foursome and collect information from each player
Set up registration options + sponsorships
Need to register individual players as well as teams and offer various sponsorships to raise funds? Event Espresso can help!
Receive secure event payments
Securely receive payments online for your golf event registrations through Stripe, Authorize.net, PayPal, or another supported payment service
"The support team is far beyond knowledgeable and extremely supportive."
As a small non-profit youth organization Event Espresso is the next best thing. Our event listings, registrations and tickets sales look credible and professional by using Event Espresso. The support team is far beyond knowledgeable and extremely supportive. We couldn't look as good without them or this company. –Executive Director for the Academy of Performing Arts
A preview of a golf tournament or golf outing created with Event Espresso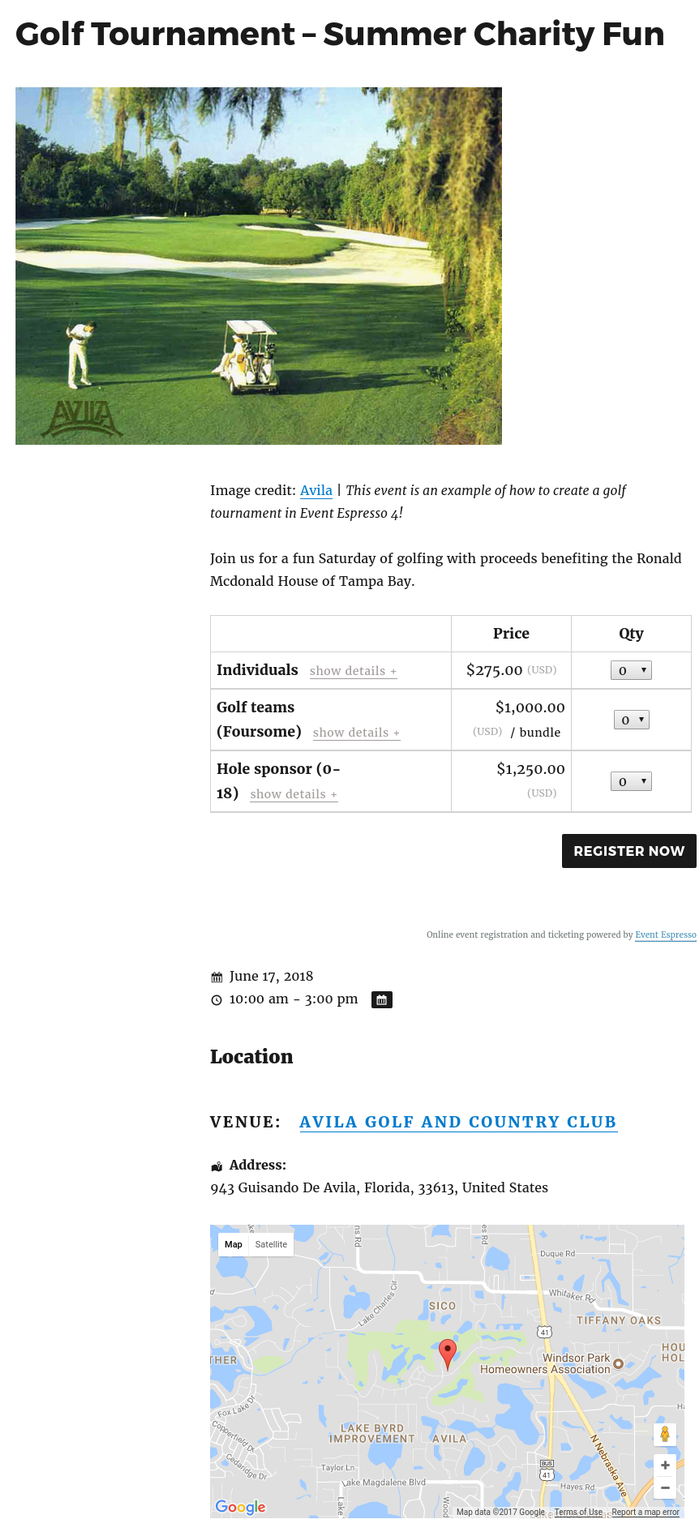 How to set up a golf tournament fundraiser with WordPress and Event Espresso
See a golf fundraiser on a demo website for Event Espresso | Host a golf fundraiser with Event Espresso →
These organizations trust Event Espresso for their golf tournaments
Solid Ground International (California, United States)
New York State Cheese Manufacturers' Association (New York, United States)
No Longer Bound (Georgia, United States)
Plano LIONS (Texas, United States)
International Air Cargo Association of Chicago (Illinois, United States)
United Way of Lee, Hendry, Glades and Okeechobee (Florida, United States)
Electric Contractors Association of Alberta (Alberta, Canada)
Institute of Real Estate Management of Kansas (Kansas, United States)
Maryland Burglar & Fire Alarm Association (Maryland, United States)
Salesforce.com (Washington, United States)
Professional Golf Planners of America (Michigan, United States)
Golf de Mornex (Monnetier-Mornex, France)
Popular questions about golf tournaments and Event Espresso
In addition to golf tournaments, I want to organize other fundraisers like clay shoots, banquets, cornhole tournaments, galas and more. Can I do that with Event Espresso?
Yes, Event Espresso is versatile and can help with different events. You can create as many events as you would like including free events, paid events, and even display-only events where you want to show event information but not allow registrations.
Do I need to be a computer expert to use Event Espresso?
You don't need to be an expert with technology to use Event Espresso. If you are comfortable with creating a blog post on your existing WordPress website and browsing your WordPress dashboard (WP-admin), then you'll find Event Espresso familiar. We also have a quick start guide for Event Espresso which will help you get up and running fast through a series of recommendations and short video tutorials.
Do I need a WordPress website to use Event Espresso?
Yes, a WordPress website is required to run Event Espresso. However, our sister company, Event Smart offers fundraising event registration websites using Event Espresso and WordPress as the backbone, where events, calendars, and pricing option selectors can then be embedded on any website, such as Weebly, Wix, and WordPress.com websites.
I want to allow more than one participant to register for my golf tournament at a time. Are group registrations available?
Yes, you can allow multiple participants to register at once by enabling the Personal Information question group for additional registrants through the lower right area of the event editor and saving changes.
"I was able to install and set up Event Espresso and make it work the way I want to"
I'm not a backend kinda guy. I'm a golf pro. I was able to install and set up Event Espresso and make it work the way I want to. I have to learn what I have so I can manage my business because developers are good at what they do but do not always understand marketing, sales, etc. There are very few plugins I can set up without help from my developer. The hardest part for me was getting the APIs for payment gateways, etc. What I like most is the information is in plain, easy to understand English and not computer jargon that only a tech-head can understand. –Roy
30 Day Money-back Guarantee
Your purchase is 100% risk free! Try Event Espresso for a full 30 days. Our team will be there to help you along the way with any questions.
Ask a question about Event Espresso | Start with your golf event and Event Espresso →