Accept online registrations for your CPR and first aid classes in Virginia so you can save time and receive payments quickly with the best first aid class registration plugin
Feature classes on an events calendar
Create classes with different dates and allow your guests to register for the ones that best fit their schedule
Download an attendee list
Always know who is attending a class by pulling up a guest list
Move attendees between classes
Plans can change — quickly transfer a participant between different classes in just a few clicks
"We've been using it for our site classes for several years and we love it"

A preview of a first aid (CPR) class created with Event Espresso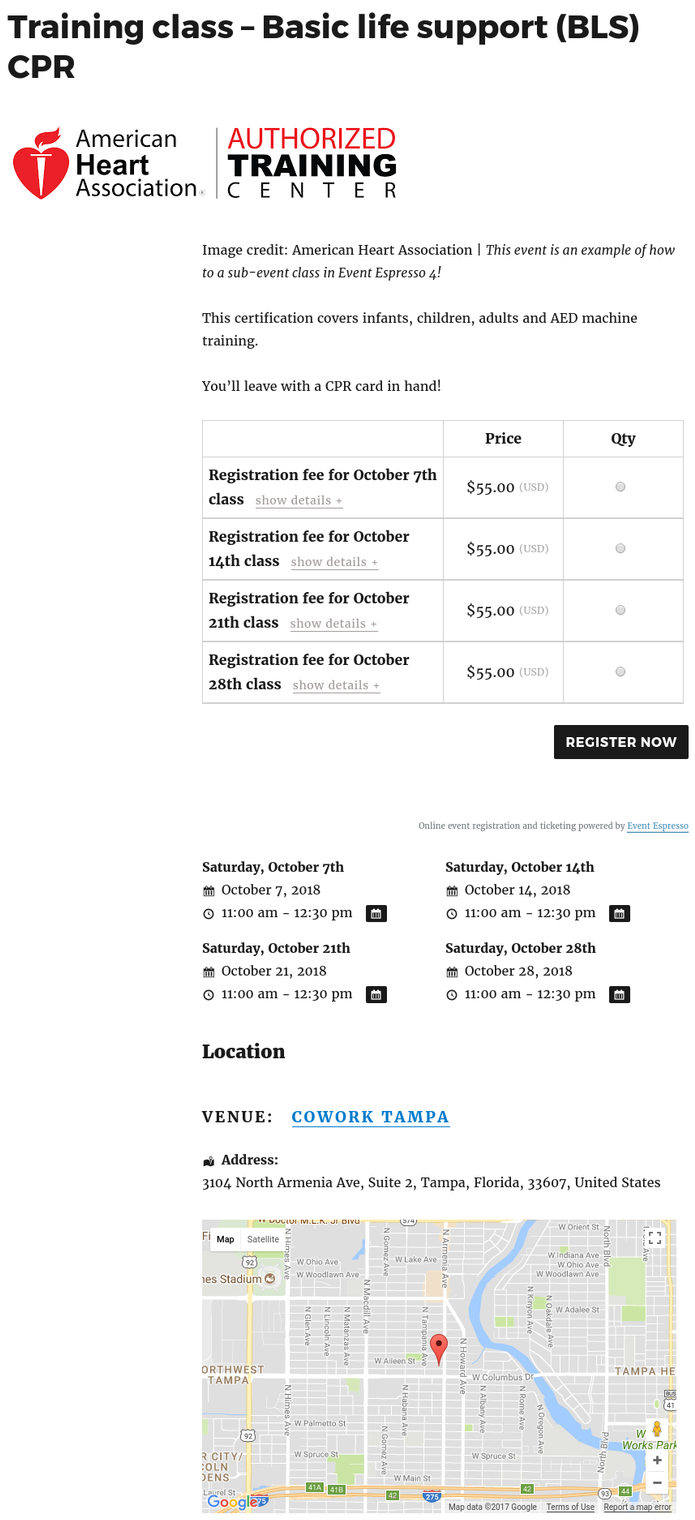 How to set up a first aid class with WordPress and Event Espresso
See a first aid class on a demo website | Organize your first aid classes with Event Espresso →
Here are just a few organizations that trust Event Espresso for their first aid classes
MH First Aid (New South Wales, Australia)
Four Minutes First Aid Training (Caerphilly, United Kingdom)
CPR Training Professionals (California, United States)
CPR-N-MORE (Missouri, United States)
Alibi Training (Brisbane, Australia)
Pernice's Rescue Training (New York, United States)
Simply First Aid (British Columbia, Canada)
The Emergency Academy (Idaho, United States)
ENLIVEN CPR and First Aid (Tennessee, United States)
Safety Solved (Colorado, United States)
In-Pulse CPR (Florida, United States)
SynergyCPD (Crewe, United Kingdom)
Popular questions about first aid classes and Event Espresso
Do I need to be a computer expert to use Event Espresso?
You don't need to be an expert with technology to use Event Espresso. If you are comfortable with creating a blog post on your existing WordPress website and browsing your WordPress dashboard (WP-admin), then you'll find Event Espresso familiar. We also have a quick start guide for Event Espresso which will help you get up and running fast through a series of recommendations and short video tutorials.
Do I need a WordPress website to use Event Espresso?
Yes, a WordPress website is required to run Event Espresso. However, our sister company, Event Smart offers free hosting for class registration websites using Event Espresso and WordPress as the backbone, where events, calendars, and pricing option selectors can then be embedded on any website, such as Weebly, Wix, and WordPress.com websites.
I want to show my first aid classes on a calendar. Can I do that with Event Espresso?
Yes, with the Events Calendar extension, your first aid classes will automatically appear on a calendar. Your participants can browse to a class and then click to begin a registration. The Events Calendar add-on is available as a separate purchase for the Personal support license or Developer support license. However, it is included in the Everything support license.
I want to allow more than one participant to register for my first aid classes at a time. Are group registrations available?
Yes, you can allow multiple participants to register at once by enabling the Personal Information question group for additional registrants through the lower right area of the event editor and saving changes.
"The breath of functionality you get in the cost of the plugin is impressive"
30 Day Money-back Guarantee
Your purchase is 100% risk free! Try Event Espresso for a full 30 days. Our team will be there to help you along the way with any questions.
Ask a question about Event Espresso | Start now with your first aid classes and Event Espresso →