Use Event Espresso to sell tickets to your festival in Virginia from your own WordPress website and receive payments up front as your attendees pay online for their registrations
Create different registration and ticketing options
Whether you have a one day or a multi-day festival, you can create different tickets and passes so your attendees can choose from
Send attendees tickets
Collect an attendee's information during registration checkout and send them tickets automatically after a successful registration
Register festival vendors
Pre-register vendors so you can review their applications. Then approve festival vendors that are a good fit so they can pay their vendor fees.
"Very happy with how it has worked out"
I have been using Event Espresso to run my festival and have been very happy with how it has worked out. They have provided tremendous support and their iPhone app is amazing and easy to use. I suggest using it for your event. –Alex Grant
A preview of a festival created with Event Espresso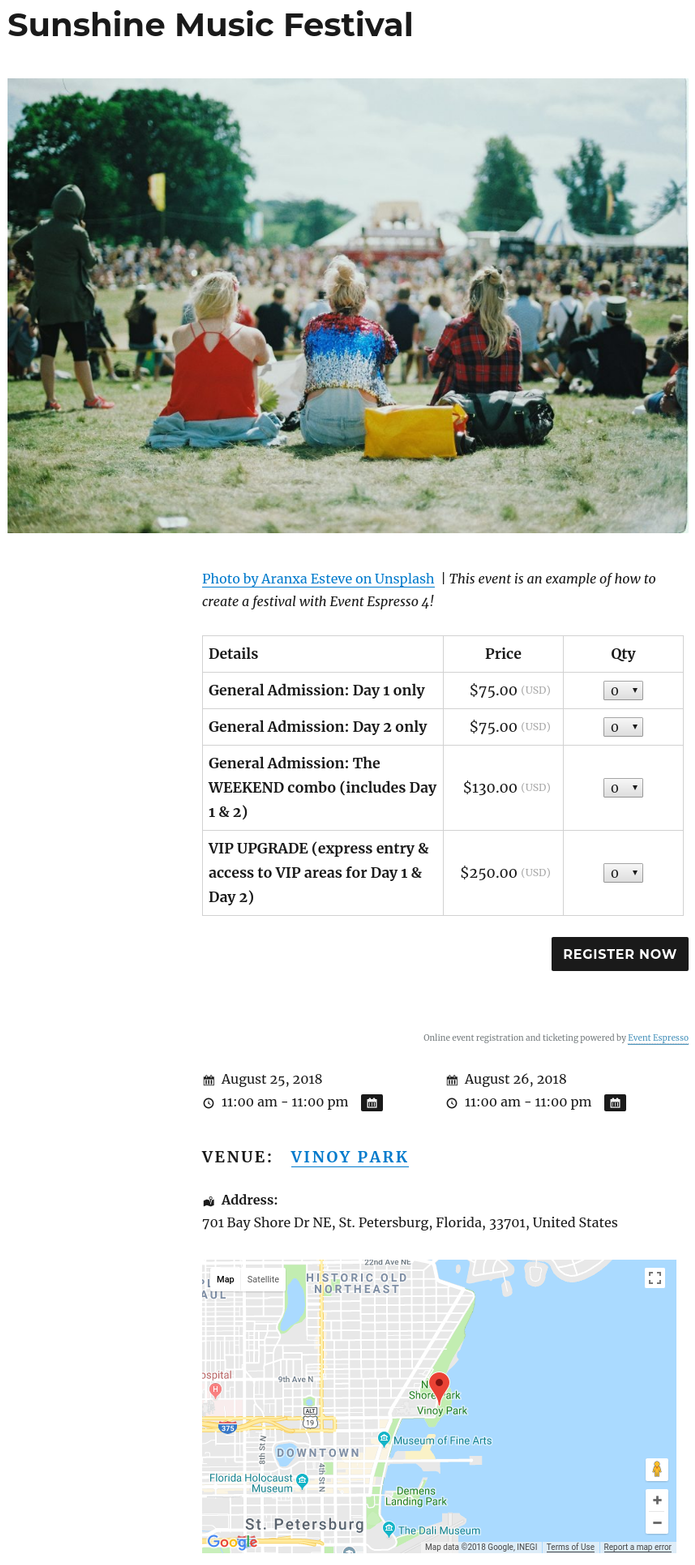 How to set up a festival with WordPress and Event Espresso
See a festival on a demo site for Event Espresso | Sell tickets for your festival with Event Espresso →
Here are just a few organizations that trust Event Espresso for their festivals
Sydney Learning Festival (New South Wales, Australia)
Festival Aangeschoten Wild (Rotterdam, Netherlands)
Sawdust Art Festival (California, United States)
Ledbury Poetry Festival (Ledbury, United Kingdom)
Gluten-Free Food Allergy Fest (New York, United States)
Jesus Festival (Manila, Philliphines)
Guildford Beer Festival (Surrey, United Kingdom)
Crush Festival Bundaberg (Queensland, Australia)
Chamber Music Connection (Ohio, United States)
The Fizz Festival (Manchester, United Kingdom)
Daschund Derby (Wisconsin, United States)
Prairie Gardens (Alberta, Canada)
Popular questions about festivals and Event Espresso
Do I need to be a computer expert to use Event Espresso?
Do I need a WordPress website to use Event Espresso?
I want to allow more than one attendee to register for my festival at a time. Are group registrations available?
My festival takes place across multiple dates. Can Event Espresso help with that?
My festival has a series of smaller events like classes and workshops. How does that work with Event Espresso?
I want to sell different passes or tickets for my festival. Can I create them in Event Espresso?
Can Event Espresso help with virtual or online festivals?
Can I send attendees tickets after their registration
I want to pre-screen vendors for my festival. Does Event Espresso have a way to handle vendor management?
Can vendors upload files during their registration?
How will I receive payments from my attendees that register for my festival?
I have a question that I need help with.
"A very, very slick plugin"
It is a very, very slick plugin. It's one of those plugins where you install it, change a couple of settings, and boom you're selling tickets. –Brad Williams, WebDevStudios
30 Day Money-back Guarantee
Your purchase is 100% risk free! Try Event Espresso for a full 30 days. Our team will be there to help you along the way with any questions.
Ask a question about Event Espresso | Start now with your festival and Event Espresso →