Robust Event Ticketing for WordPress
Event Espresso is a very flexible, and robust event ticketing plugin for WordPress. Many optional features include an integrated calendar, ticket scanning & check-in/out capabilities, single page checkout, multiple event registration, and after event marketing tools.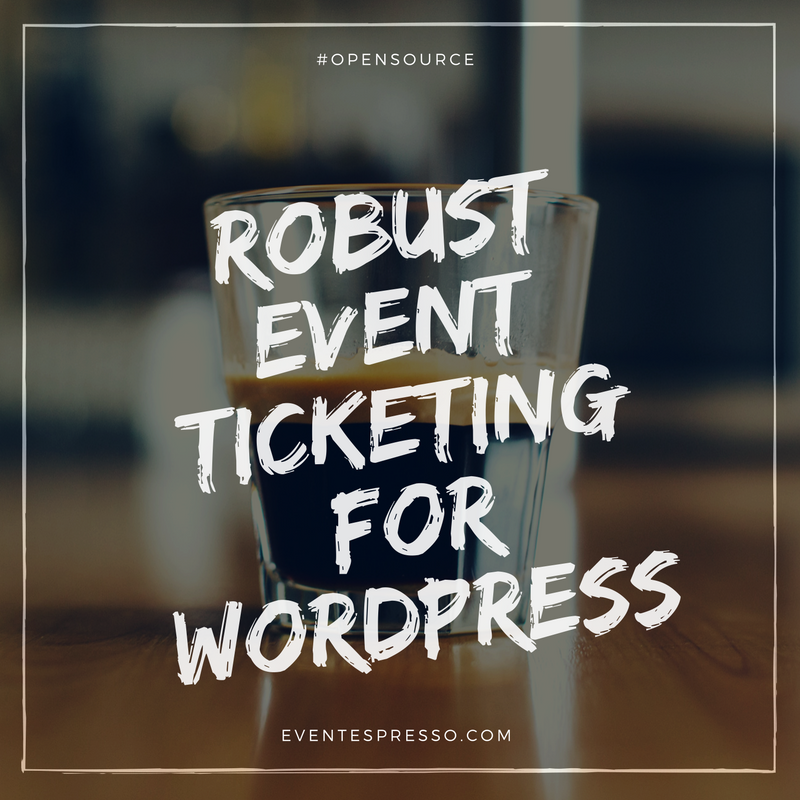 So many different ways to use Event Espresso!
 We can't list all the ways Event Espresso is in use, but here are some use-cases and examples. If you want to try out a use case in real time, be sure to visit our demonstration site. Where we have a few live event use case examples and a place to create your demo event website. Don't forget to check out our Member Showcase for even more ideas.
Arts & Culture
City Tours
Club Performances
Concerts
Movie Theater Ticket Sales
Museum Tickets
Music Festivals
Plays and Theatrical Performances
Social Events
Business
Classes
Business Classes
Cooking Classes
Continuing Education Classes
Dance Classes
Drivers Education Classes
Fitness Club Classes
Food Safety Classes
Martial Arts Classes
Music Classes
Safety Training
Sailing Classes
Scrap booking Classes
Search & Rescue
Sewing Classes
Skydiving Classes
Yoga Classes
Community Events & Festivals

Conferences
Geek/IT Conferences/Camps
Political Conferences
Social Media Conferences
Tradeshow Booth Reservations/Sales
Tradeshow Vendor Registration
WordCamps
Education
School Lunch Reservations
Medical School Preparation Courses
Mentor Training Programs
Parent Teacher Conferences
Parent Teacher Association Conferences and Meetings
Wildlife Education and Tours
Fundraisers & Non-Profit Organizations
Boy Scout Troop Events
Donation Drives
Industry Association Events
Volunteer Management
Government
Chamber of Commerce
Community Recreation Centers
Department of Justice
Parties
Birthday Parties
Christmas Parties
Class Reunions
New-Year's Eve Parties
Weddings
Recreation
Adventure Tours
Sail Boating Trips
Socials
Dancing
Dungeons & Dragons

D&D Individual Games
D&D League Signup

Escape Rooms
Speed Dating
Sports
Football and Soccer Training
Races
Sports Arena Tickets and Season Passes
Tournament Registration
Tennis Classes
Training
ACLS & CPR Training
Food Safety Training
Firearms and Concealed Weapons Training
Health and Safety Training
Manager Certification Training
Medical & First Aid Training
Scrum Master Training
Ski Patrol
Technical/IT Training
Workshops
Furniture Restoration
Marketing
Public Speaking
Real Estate Workshops
Visualization Workshops