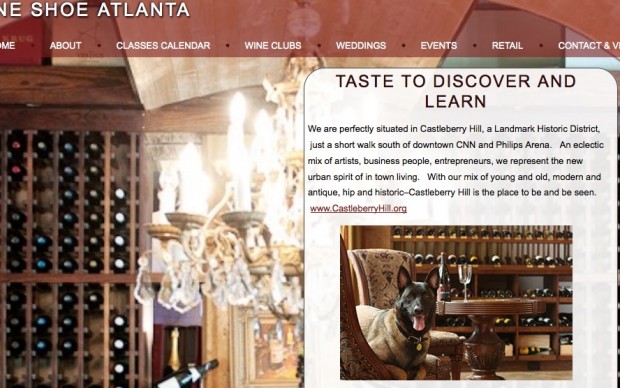 Wine Shoe Atlanta is a small boutique wine shop, wine tasting classroom in the Castleberry Hill district of Atlanta, GA.
We are perfectly situated in Castleberry Hill, a Landmark Historic District, just a short walk south of downtown CNN and Philips Arena. An eclectic mix of artists, business people, entrepreneurs, we represent the new urban spirit of in town living. With our mix of young and old, modern and antique, hip and historic Castleberry Hill is the place to be and be seen. www.CastleberryHill.org
Wine Shoe goes beyond simple wine appreciation. Join us for a journey that defines and expands your personal tastes. Learn how to consistently select wines that delight and excite your palate. At Wine Shoe we specialize in Seated Tasting Classes intimate gatherings that allow you to explore a range of wines while feeling as though you are gathered in your best friend's living room.
We are Atlanta's only dog friendly wine shop. Beeren, our trained security dog may be in the shop.
Website Profile
Member Comments
Cheers for a first-class solution that I intend to use for all of my customers that need a robust reservation system on a WordPress install.

The website design was created in Artisteer and required a modern and very "artistic" approach to appeal to the cutting-edge population of the area. HTML5/CSS3. Full screen backgrounds (jQuery) make up the "image gallery".

Other plugins include contact form, social media icon links and alternative mobile theme for smartphones and smaller tablets.

Hosting is on Windows IIS7, shared.

Event Espresso was the only solution that had even close to all of the features the owner wanted: we're using a calendar layout, custom ticket templates, custom email notifications, user permissions (for employees to manage attendee lists and payments without access to the rest of the site admin), MailChimp integration, PayPal gateway for payment, Groupon codes (used for all social deals and there are thousands of customers buying them).

Shopping cart was turned off as most customers purchase tickets for only one class at a time and it does not coincide with Groupon deal requirements.

Future plans include promo codes sold as gift certificates and scanning of QR codes to confirm attendance.

Only a few small lessons were learned: we had to set the website to DEBUG = "true" to configure the payment gateway and be able to add new events in Windows. cacert.pem file had to be added manually to confirm payments.

When you upgrade to Calendar 2.x, if your calendar disappears, try resetting the calendar settings (checkbox at the bottom) before going through the debug steps.

MailChimp requires a group within a list to add email addresses correctly.

The owner bristles slightly at the number of settings for each event but when you have that many features and combinations, it takes that many mouse clicks and keystrokes to get your system *exactly* as you want it!

Definitely worth the time! Cheers for a first-class solution that I intend to use for all of my customers that need a robust reservation system on a WordPress install.

wineshoeatlanta.com was created and hosted entirely by SDOC Publishing Internet Solutions.