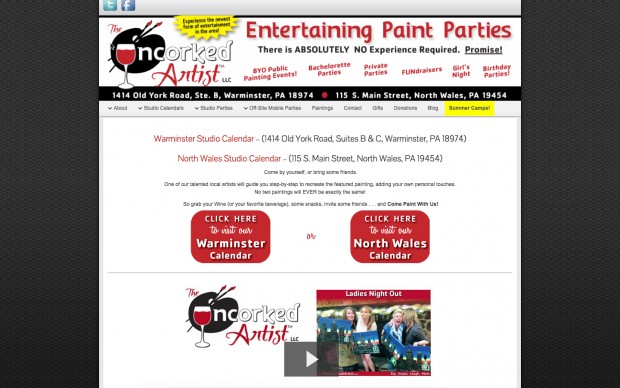 BYOB Entertaining Paint Parties. Sip, Snack, Laugh, Paint!
The premier upscale BYOB entertainment venue in the Bucks-Mont PA area, providing a casual & creative atmosphere for you to discover or re-discover your inner artist!
One of our talented local artists will guide you step-by-step to recreate the featured painting, adding your own personal touches. No two paintings will EVER be exactly the same!
And there is absolutely no experience necessary, we promise!
Website Profile
Member Comments
I can't really estimate how much time or money I've saved by using EE because I've always used it! I would have to guess that without it, I would need someone full time to keep my events organized, so that's at least $10K. I am very happy with EE on every level, and am looking forward to upgrading to EE4 as more features are added. I know I am saving time because I was able to train my management team on how to use EE, which frees me up to work ON my business instead of working IN it.

My business growth has been amazing. I started with one paint studio in April 2012 (the first independent BYOB paint studio in PA) and didn't actually turn a profit that first year. Early 2013 I leased an adjoining suite in my complex, allowing me to host 2 parties at the same time. In November 2013 I found another space to lease in a nearby town, which included a main studio and a smaller party room. Then in December 2014 we began our mobile paint party unit, where we bring the party to our customers in their home, business or any venue they secure.

I am more a designer than a developer, so I knew I wanted to create my website on the WordPress platform. The Event Espresso registration plug-in has allowed tremendous growth for my company. In just 3 years, we've gone from hosting about 7 parties a weekend to hosting up to 33 parties per weekend! My business relies on Event Espresso. It's seamless integration to our MailChimp e-newsletter helps us keep customers informed and aware of new events. And every time I've had an issue with the website (there's always something, lol) the Event Espresso support team has been there, quick, responsive, and easy to work with.
Event Espresso is the best plugin I've ever used.