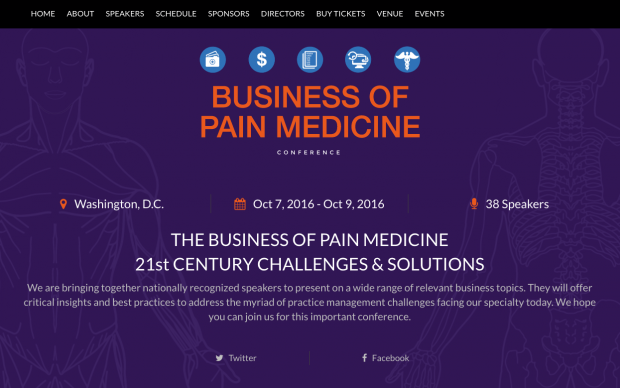 Leading pain management group, National Spine & Pain Centers, recently sought Valet's services to create a digital presence for their annual conference on pain management-Business of Pain Medicine. They needed an event management website that would fit within their budget, and show off the rich array of knowledge and opportunity for learning at their conference. They also wanted a tool they could reuse for future conferences.
The event management website needed to facilitate multiple groups of attendees registering for the conference, showcase speakers, display schedules, provide event location info, and also work as a tool for event organizers to manage ticket sales, check-in at the event, and accounting. They needed to start selling tickets in a few short weeks, so our team launched into action.
Website Profile
Member Comments
When considering how to build the site, we decided to use Event Espresso for ticket management. We integrated the event website theme with Event Espresso, and it was a great experience! This powerful plugin offers lots of the core functionality our client needs.