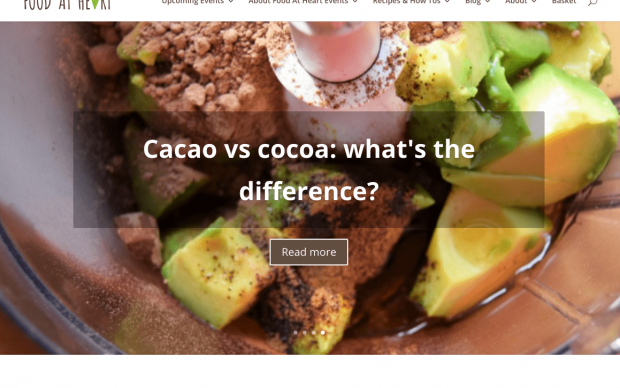 Authentic serial food blogger and hands-on food event connoisseur 'Food At Heart', approached Cosmik Carrot regarding a new website and enquired about custom event registration. Some of their requirements were the option for full control over their future events, the attendance, and pricing with zero commission on ticket sales. They also wanted an event registration tool that could grow with their website for the foreseeable future.
When it comes to event registration for our clients, we only work with Event Espresso, as they are the number one tool to use. The custom integration that it provides for a clients website is fantastic and we styled everything as one for Food At Heart, as per their requirements. The owner Meredith Whitely, was very specific on how she wanted her events to appear. Following the options that Event Espresso can provide, we opted for the grid layout to show all of their events, and then for a single view of an event, we added further customisation to offer full width images.
Compared to other event registration tools, Food At Heart were delighted knowing that with zero commission on ticket sales by Event Espresso, every ticket they sell goes back into their business to provide better food events each time around. Each event registration also has the Food At Heart branding sent to the attendee, which has provided that clinical professional marketing that they required.
Food At Heart have been able to provide many different events over the last year and are expanding Event Espresso to use the event registration for selling gift vouchers to customers.
Website Profile
Member Comments
"I would highly recommend Cosmik Carrot to anyone looking to use Event Espresso on their site."
Meredith Whitely
Owner, Food At Heart