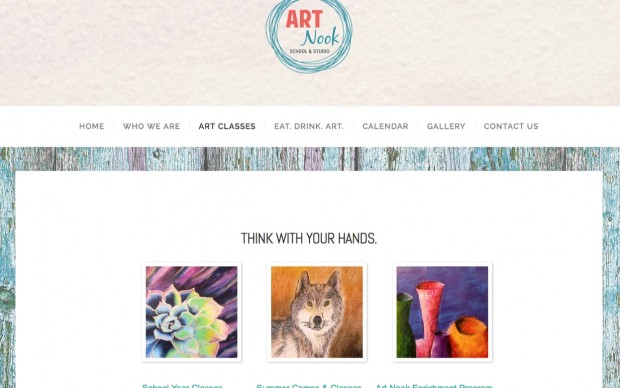 Art Nook School & Studio offers everything from year-round classes for aspiring artists to laid-back workshops for casual creatives, Art Nook's only goal is to help you create – regardless of your age or skill level. It's time to wake up your imagination and produce something amazing from scratch. Like what you hear? Mosey around their website to learn more or stop by the nook location to check it out for yourself.
A few things we like about the Art Nook School & Studio:
– They showcase their event list right from their classes page from the home page and main top navigation. This makes it easier for attendees to locate their available classes.
– They categorize and sub-categorize their classes by type to help attendees find the art classes they're looking for. Find a class by category and even class by age type.
– They use a calendar to show the available classes by date.
– They use the Multiple Event Registration add-on to allow attendees to register for more than on class at a time.
– Interestingly, they allow attendees to choose the first week that they want to begin their four-week class. They do this by using a date question type that allows the attendee to choose a date on a calendar.
– They ask attendees how they heard of Art Nook. Doing so can inform their future marketing campaigns.
– They use a custom question requires attendees to agree to a policy before they are allowed to register. This is good for safety and customer service policy purposes.
Website Profile