The key to giving customers a great experience is gathering information from them so you are prepared to cater to their needs. With Event Espresso you can easily collect all the data you need with a custom event registration form on your website, collect payment and more!
Event Espresso 4 Decaf
Event Espresso 4 Decaf comes with dozens of standard features. Here are a few of our favorite features.

Multiple Ticket and Pricing Options
Event Espresso 4 Decaf enables event managers to create a variety of ticket options to accommodate the maximum number of attendees and collect the right fees. An unlimited number of tickets can be configured with the following options: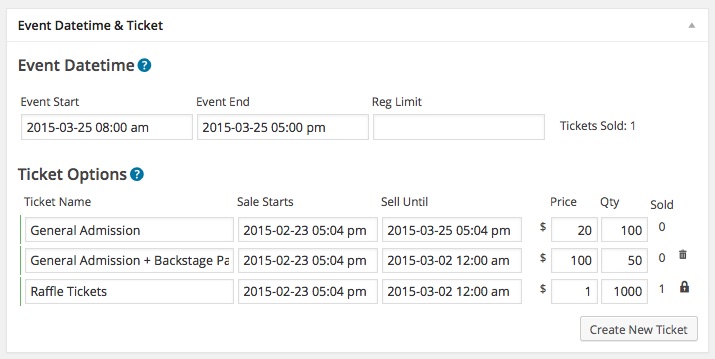 Event Espresso 4 Regular (the paid version) offers these additional pricing features:
Customized Confirmation Emails
In Event Espresso 4 Decaf we call the confirmation email system "Messages". This messaging system is very powerful (somewhat complex), and can be extendable and used for more than just email.
Message types in decaf include:
Registration Approved
Payment Received
Registration Pending Payment
Not Approved Registration
Refund Issued
Event Espresso 4 Regular (the paid version) includes these additional customizable message types:
Newsletter
Invoice
Receipt
Payment Reminder
Payment Declined
Registration Declined
Registration Cancelled

Collect Payments
Integration with PayPal allows you to collect money to cover the cost of organizing events before they start.
If you don't have a PayPal account, registrants can download a PDF invoice or pay by cash/check, and there is even an option to pay by bank transfer!
Want to accept  credit card payments? Upgrade to Event Espresso 4 Regular to get access to the following payment methods:
Authorize.net
PayPal Pro
Mijireh
Stripe
…and more!
Smart Single Page Checkout
The Espresso 4 checkout process is faster and more intuitive than ever.
The enhanced single page checkout allows registrants to:
Skip making payments for "free" or  no-cost tickets.
Use the "Primary Registrant" details to auto-fill the registration form for additional registrants with the same answers to your registration questions.
Update the personal information in their contact record by registering for subsequent events.
Event Espresso 3 Lite
Any Questions?
If you have questions, please contact us in the Event Espresso Lite forum, Pre-sales forum.
Want to know more?
You can also Test-drive Event Espresso Pro for free, get the Full Test-drive or compare support licenses (versions).