Whether you're selling tickets to a stand-up comedy night or an international conference, you'll need an event registration system. This type of solution will let you display information about your event, register guests, and even accept event payments. The key lies in choosing the right tool to help with your event.
If you're looking for a fully-featured event registration system for your WordPress website, you'll probably end up considering both Events Manager and Event Espresso. Each plugin offers a lot of features out of the box, but you'll need to decide which one is right for your website.
In this post, we'll help you answer that question. We'll look at the basics of event registration systems, then compare the two WordPress plugins and see what they have to offer. Let's get to it!

What an Event Registration System Is (And Why You Should Use One)
As the name suggests, an event registration system is a feature you can add to your website so visitors can sign up for your events. This usually includes creating a calendar of events, and giving attendees the option to RSVP or even purchase tickets directly from your website: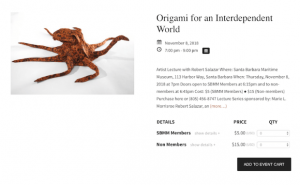 Naturally, this type of solution could be used in several different ways, depending on the type of events you want to feature. For example, you could use an event registration system to sell tickets for ongoing events, such as workshops or club nights. However, it also works well for one-off occasions, such as a conference, a live performance, or even a fundraiser.
To set up an event registration system on your WordPress website, you'll need the right plugin. You'll want to find an option that offers all the functionality you require. This includes features that let you create multiple pricing options, set up an events calendar, process payments, and collect the right information from attendees with custom registration forms.
With that in mind, finding the best plugin requires looking into the details of each option, to see which one has everything you'll need. Let's do that right now, by looking closely at two of the most popular plugins.
Events Manager vs Event Espresso: How to Add an Event Registration System to Your Website
If you need to add an event registration system to your WordPress website, you're actually spoiled for choice. There are a number of plugins available to choose from, and it's very possible to find one that offers the right balance between feature set and ease of use.
To help you get started, let's compare two of the best event registration plugins on the market. The first of these is Events Manager: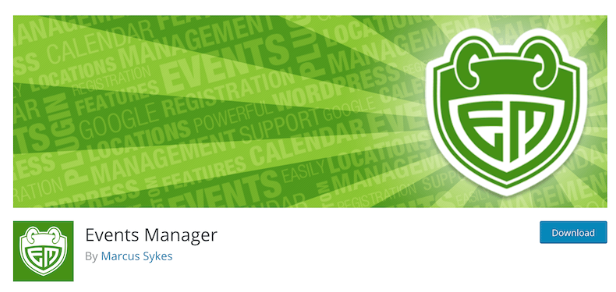 This aptly-named plugin is a handy event registration tool. The plugin is easy to install and is compatible with WordPress multisite installations. It also enables you to customize your events in multiple ways, such as by setting a dress code and assigning a location.
Let's take a look at some of the plugin's key features. With Events Manager, you can:
Create one-off and recurring events
Manage bookings and export registrations
Set up an events calendar
Use the Event and Location custom post types to customize your registration system
Payment integrations with PayPal and Authorize.net
Next up, let's check out Event Espresso: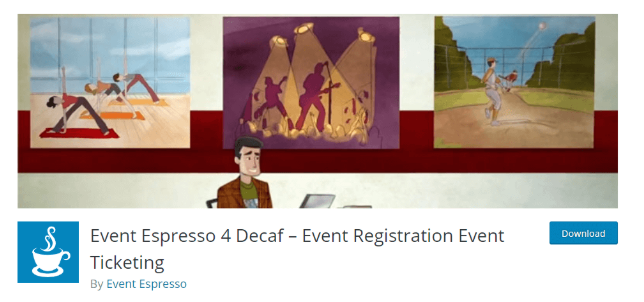 As with the previous option, this plugin provides all the crucial features you'll need to set up an event registration system. In addition to creating unlimited events and multiple ticket options, Event Espresso allows you to sell tickets or registrations and process online payments. This functionality is offered even in the free version of the plugin, so you can try it out risk-free.
When it comes to key features, Event Espresso enables you to:
Create a fully-integrated event registration system on your website
Sell tickets or registrations and accept payments using several gateways
Send automatic confirmation emails to users who register online
Use the included mobile app for Android or iOS (e.g., iPhone or iPad) to monitor attendance and scan purchased tickets
Integrated with popular

payment gateways

including PayPal, Stripe, Authorize.net, and more
As you can tell, both of these plugins provide a lot of features. Therefore, which one is ideal for you will depend largely on what functionality you require.
Which Event Plugin Should You Choose?
The fact is that both Events Manager and Event Espresso provide you with the basic features you'll need to create events on your WordPress website. Choosing which one is a better match to your needs comes down to understanding what those needs are.
Events Manager offers robust customization options, with its included custom post types and ability to export registrations. If you want to actually sell tickets to your events, on the other hand, Event Espresso provides that option out of the box. In addition, it offers both Android and iOS apps to manage attendance, making it easier to handle large events smoothly.
So while Events Manager isn't a poor choice, you will need to purchase the premium version if you want access to some higher-level features. In contrast, Event Espresso lets you accomplish a lot more for free, in addition to offering a premium version with even more functionality.
Conclusion
An event registration system is an essential tool when you're organizing any type of event from your website, regardless of its scale. For best results, you'll need a fully-featured system that's stable, customizable, and easy to work with. Fortunately, as a WordPress user, you have access to tools that can help you out.
In this post, we've compared two of the most popular plugins: Events Manager and Event Espresso. While both options have a lot to offer, they fill somewhat different niches. The former delivers on customization options, for example, while the latter is a stand-out choice for payment processing and monitoring attendance.